How To Find 'The Right Swimsuit' For Your Mombod
by Carrie Saum for Ravishly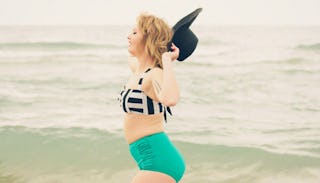 alexanderbuntin / iStock
Hey there, and welcome to summer! It will be approximately 10,000 degrees from now until September, and you might want to sell your kids to the circus everyday before 9 a.m. I know. It's brutal. Hang in there.
The internet has told us that instead of selling our wild summer children to a band of traveling performers, we should go swimming with them instead — at a beach or at the pool, your choice. The internet also told us that we moms should get over our silly body issues and just play! Have fun!
Related: These 9 Bestselling Swimsuits Have A Cult Following On Amazon — And They're All Under $30
Chase your kid down the beach because you want to — not just because you're trying to save them from certain death! Get over your body insecurity already! Do it, even if you feel like everyone is staring at your mom bod and judging you from their beach towel, even though many of them legitimately are! You are depriving your children of happy memories! Shame on you for having shame about your body, and shame on you for allowing that shame to inhibit your already shameful parenting skills.
Shame. Shame. Shame.
So, it's probably a good idea to put together a Mombod Swimsuit Guide so you can suppress that body shame just long enough to alleviate your crushing mom shame — all so you can play with your kids in a public place, while wearing almost nothing with reckless abandon.
Maybe you are one of those amazing genetically blessed people who have neato bodies that go right back to their pre-pregnancy weight and shape.
You are a unicorn.
Related: The Coolest Rash Guards For Parents Who Don't Want To Bare It All (Or Get Sunburn)
You might be one of those other wonderfully "genetically blessed" people who have retained some of the pregnancy weight, regardless of what they do to try to banish it (like restricting calories and exercising).
You are also a unicorn.
You could possibly be one of those spectacularly "genetically blessed" people who had soft curves before babies, and now you have more curves than a racetrack.
And you might not have actually given birth at all.
You are also a unicorn.
Or, like me, you are one of those phenomenally "genetically blessed" people who had an average-sized body pre- and post-pregnancy, but your thyroid quit and your PCOS flared up, and now you have extra weight in addition to low energy and a toddler.
You are also a unicorn.
We are all unicorns.
As Mom Unicorns, we need to approach swimsuit-wearing as such. Here's a handy little reference for how to dress your mombod while minimizing all the shame:
Amazing Unicorns
Carefully choose swim attire that you feel comfortable in while submerging your body in frigid water to build happy memories for your kids.
Put it on your body.
Wonderful Unicorns
Thoughtfully consider what a swimsuit actually is. Find one that literally speaks to you and can call your children back from the deep end for you.
Put it on your body.
Spectacular Unicorns
Remain steadfast in your commitment to wearing clothes in general. This is the best way to refrain from publicly shaming your children. Grab something larger than a handkerchief.
Put it on your body.
Phenomenal Unicorns
Pray for a way to safely drink wine while simultaneously rescuing your toddler from being trampled on the beach by swarms of joggers all day long, and find the perfect piece of spandex to facilitate these activities.
Resign yourself to sober beach parenting, and put that spandex on your body.
♦♦♦
Whatever you decide to put on your body while you are swimming with your family, have fun with it. Your body is every bit as unique as you are, and you don't owe anyone anything, least of all your shame.
Wear what you feel comfortable in, remind yourself that you deserve to enjoy life in the body you have right now, right this minute. And if that feels uncomfortable or impossible, that's OK too.
Embrace your little wannabe circus performers and channel your Mom Unicorn — and pray for September.
This article was originally published on