3 Clever Ways You Can Start Saving Today For Your Kid's College, According To A Pro
Because the Supreme Court doesn't give a f*ck about student loan debt.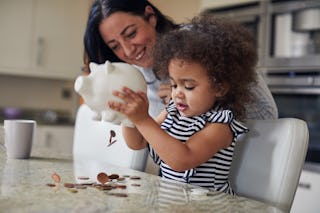 Sally Anscombe/Getty Images
Though my kids are many years away from attending college, I'd be lying if I said I had a solid plan in place to pay for it. I'm a single mom, and just getting through today's bills is hard enough. But College Savings Month or not (that's September, FYI), I know that now's the time to get smart about growing those reserves rapidly if I don't want us to be saddled with loans when they graduate.
Another truth? I kind of expect my kids to help with the efforts. By that, I mean doing their best in school so they might qualify for scholarships and getting a manageable, part-time job so they can contribute towards the cost of tuition.
In the meantime, I'm all ears when it comes to the best ways to save for college. And who better to get those tips from than someone who's experienced firsthand both the stress of carrying massive college debt and the joy of watching a child graduate with zero debt?
Why You Should Start Saving For College, Today
When Patricia Roberts, COO of Gift of College and author of Route 529: A Parent's Guide to Saving for College and Career Training with 529 Plans, gave birth to her son, she and her husband were still in the midst of repaying over $100,000 in student loan debt — a debt that took them 20 years to pay off, despite having worked multiple jobs while pursuing higher education degrees.
Flash forward to her son's recent graduation: Patricia proudly saw him graduate without loans to repay. Now, she's sharing why and how parents should start saving for college today.
"Let's face it. Whatever the age of your child, when late summer rolls around, they will be one year closer to some form of higher education. [So] beginning the savings process as early as possible gives your contributions more time to grow and compound. Over the years, consistent contributions [...] can result in meaningful savings," says Roberts.
While college isn't the only route towards a successful career or fulfilled life, for those headed in that direction, saving for college isn't always easy. The fact is that tuition costs are only rising. And if you're hoping that the government will jump in to help out by the time your child is in college, well, don't forget how The Supreme Court ruled on parts of Biden's plan to end the student debt crisis.
How To Save For Your Kid's College, Even When You're Broke
Open a 529 college savings account. These state-sponsored investment plans allow parents to save for beneficiaries and withdraw funds (usually tax-free) to pay for educational expenses, like tuition, books, and housing.
Crowdfund. Request friends and family to contribute towards your child's college savings in lieu of giving birthday and holiday gifts. And don't forget to ask your employer about available college savings benefits to support your goals. Many employers offer matching 529 contributions, and Roberts says that some may even be willing to provide a one-time financial wellness benefit instead of a traditional baby gift so you can start saving before your baby is born. While you can't open a 529 in the name of an unborn child, you can add them as a beneficiary later.
Hire your child. If you happen to be a business owner and have a legitimate position for which your child can be hired, you can pay them a salary that can later be applied toward tuition. Not only is the salary you pay them considered a tax-deductible business expense, but they'll also learn the value of a dollar.
These tips can help you kickstart your child's college savings in a way that doesn't require any money out of your pocket. And don't waste time feeling bad that you haven't saved much (or any) funds yet. Instead, Roberts says to give yourself some grace but to get started as soon as possible — the more you can save now, the less you'll need to borrow and repay (likely with interest) down the line.
Need more college savings resources? The following will help put you on the right path: