Simply Orange Is Facing A Lawsuit Alleging Its Juice Contains Toxic PFAS Levels
The class-action lawsuit says the drink contains chemicals "hundreds of times" over the federal limit.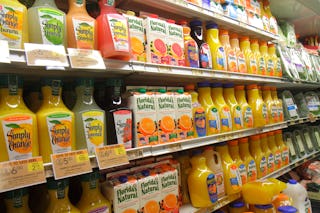 Jeff Greenberg/Universal Images Group/Getty Images
Simply Orange juice might be less simple than they let on. The popular drink, owned by parent company Coca-Cola, is facing a class-action lawsuit that alleges the product contains dangerously high levels of per- and polyfluoroalkyl substances (PFAS) — toxic chemicals that have been tied with a bevy of health issues.
The lawsuit is centered on the idea of false advertising: since the bottle contains phrases like "all natural ingredients," "simply natural," "filtered water" and "nothing to hide," it's implying that the product doesn't contain manmade toxic chemicals and that the company actively filters out toxins.
"In reality, testing has revealed that the product contains [PFAS], a category of synthetic chemicals that are, by definition, not natural," the complaint writes.
While the lawsuit does not give specific numbers when it comes to the PFAS contamination, it says that it is "hundreds of times" over the federal limit.
PFAS are human-made chemicals used in a huge range of industrial products, like plastics, cardboards, clothing, non-stick cookware, and cleaning products. According to the Centers for Disease Control and Prevention (CDC), PFAS have difficulty leaving the body once ingested and have been linked to weakened immune systems, higher cholesterol, liver damage, and some types of cancer. They are known as "forever chemicals," since they leave the body (or other contaminated area, such as water source) extremely slowly.
Most humans are exposed to PFAS via eating food packaged in materials that contain PFAS, eating fish or seafood in PFAS contaminated water, or drinking contaminated water.
While it is unclear how Simply Orange juices are contaminated as alleged, it's likely from the plastic packaging as opposed to additives to the juice.
"As we get better and better able to measure PFAS at lower levels and the FDA falls further behind on what it is testing … then you're going to keep seeing these lawsuits pop up," Tom Neltner, chemicals policy director with the Environmental Defense Fund, told The Guardian.
While the federal government does regulate PFAS in a few key ways, and while regulation has expanded greatly in recent decades, there is still a long road ahead. Eighteen states currently have their own PFAS regulations and 23 more have adopted policies that will go into effect in the future. These policies set limits on PFAS use, stop certain products from being manufactured with PFAS, and prevent PFAS water contamination.
At the moment, the Food and Drug Administration (FDA) does not widely test foods for PFAS contamination.
The Simply Orange lawsuit is far from the first news we've seen about PFAS recently. Just this week, period underwear powerhouse Thinx settled a class-action lawsuit regarding PFAS in their products