Social Anxiety Makes It Very Hard To Be A Fun Parent
by Joanna McClanahan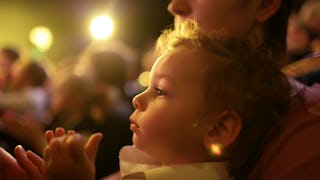 Radist / Getty
It's that time of year. The kids aren't in school, the sun is out, and it's a great time to do all things outdoors. Go to the playground, splash pad, beach, pool, kids museum, zoo, theme parks, water parks, fair, camping… and I dread every minute of it.
As a mom with social anxiety, feeling stuck in a hot, crowded place is one of my least favorite things. You know what's hot and crowded during the summer? Every. Single. Fucking. Place.
And it's not just the outdoors. The arcade, Chuck E. Cheese's, indoor trampoline parks, and movie theaters are also ridiculously packed during the summer, as parents flock to find any air-conditioned place their kids enjoy (that preferably also has wi-fi and booze).
Every parent is out doing things, trying to keep their kids busy. Most of us want to be the "fun" parent who takes their kids to do things. We make it a point to check-in on social media, and take our selfies with the best SnapChat filters.
Even the air-conditioned places are so packed that they become as hot and humid as it is outside. This is not an ideal situation for someone like me, who gets claustrophobic riding with people in the back of a car.
As someone who lives with social anxiety, I can tell you that there's no specific trigger. Some days are just harder than others to talk to strangers and face crowds. Sometimes it's manageable, and sometimes I'm crippled with fear — so much so that my voice and body will literally shake uncontrollably.
To put things in perspective, on numerous occasions, I've had to give myself a pep talk just to go to the grocery store by myself. I've even circled the block several times before going in or given up on going altogether, just because the thought of interacting with strangers was too overwhelming for me.
Some of the places that make my kids happiest give me the most paralyzing anxiety. (I'm looking at you, "Happiest Place On Earth.") And anxiety can lead to panic attacks as well as frustration and anger. Just the thought of the crowds and lines and small talk is making me sweat as I type this.
But I try to fake it. I power through it for my kids. I've even gotten back on anxiety medication this summer because I want to be able to do fun stuff with my kids without being worried about interacting with people. I don't want to let my anxiety get in the way.
On the tough days, my anxiety is too intense for me to go out at all. My kids are too small to understand the complexities of anxiety, so I just tell them Mommy isn't feeling well, and we hang out at home or in the backyard.
Sometimes I need a full day at home after a full day of "fun" the day before. I am an introvert with anxiety, so I can interact socially if I need to, but it is the most exhausting thing in the world for me.
The truth is my kids are a great motivator for pushing myself out of my comfort zone. If it weren't for them, I'd probably never leave the house. At this point, I could probably survive on UberEats and Amazon Prime if I wanted to.
Without even knowing it, they're pushing me to be a more well-rounded person and to face my fears. I know they're definitely happier when I'm the fun parent, and I know it's good for me to try my best to be one too.
This article was originally published on