Why Summer Holidays Are My Favorite
by Victoria Fedden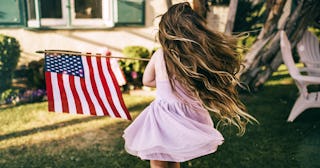 frank mckenna/Unsplash
I am a very low key sort of mom, so around early fall I usually start to feel a looming sense of dread that the holidays are coming. Between October and April, my time ends up consumed with a long chain of back to back celebrations, and frankly, it's exhausting. Sure, I love Halloween, Christmas, and even Valentine's Day, but I don't like all the work, and as we color eggs each Spring, my mind tends to drift to thoughts of summer, the best time of year, that long stretch of the calendar when I can finally relax. Of course, I'm not totally off the hook. There are still summer celebrations to get through, but for a lot of reasons, those are my favorite. First of all…
1. I don't have to redecorate my entire house.
Honestly, it feels like I just took my Christmas tree down, and I think there are still a few bunny figurines gathering dust in my living room. I'm already dreading next November, when I'll have to haul out all those strings of lights, boxes of ornaments and dusty wreaths. I certainly don't want to do that in July when it's 95 degrees and humid outside. Summer holidays require no special décor. I'm sure someone is out there overachieving with red, white, and blue decoupage Mason jars and star shaped luminaries, but this is not me or anyone I know. If I really have my act together I might, and they key word here is might, hang a flag by my front door and stake some little flags along my driveway. On second thought, no I won't, and not a soul will notice.
2. Presents Aren't Involved.
If I don't have to go to the mall, spend money, or even log in to Amazon, I am very, very happy and so is my bank account.
3. Two words: NO.CANDY.
As much as I hate to be that mom who kvetches about kids having too much candy, I am one hundred percent that person. I'm all for moderation when it comes to sweets, but Halloween, Valentine's Day, and Easter have devolved into all out sugar bacchanals. I shudder when I dump out my daughter's trick or treat loot. I burn with rage at the sight of a ten pound, red, heart-shaped box of crappy chocolates, and her Easter basket, in my eyes, overflows with potential dental bills and a middle of the night vomit fest. Maybe some people have children who can gorge on fun-size Snicker bars and remain angelic, but mine can't handle it. One Reese's Cup has her ricocheting off the ceiling. Summer celebrations, though? How about some fresh, cold watermelon, kids?
4. School is out for the summer.
The absence of school makes everything a million times easier. Why? There's no pressure. Who cares if the children are up 'til 11 p.m.? Who cares if they sleep in (which we all know means they get up at 7:30 instead of 6, but I'll take it). Besides that, there is no classroom celebration needing me as a volunteer. I don't have to shop for 25 plastic cups, get ten organic, vegan, gluten-free, non-GMO pizzas, tie-dye tee shirts with six year olds, or organize festive goody-bags for an army of second graders, and I have almost two months before I even have to think about this stuff again. I'm going to enjoy this time off.
5. Entertaining the kids is really simple.
All they need is some form of water: the ocean, a lake, a splash pad, the river, a pool, even the hose and sprinkler works and the children are thrilled. If they're wet, they're happy. When night falls, you could give them sparklers, but honestly, those are kind of dangerous and most children run screaming in terror from them anyway. In some places, they're illegal, and probably for good reason. Instead, toss the tots an entire bag of glow sticks from the dollar store. They can enjoy them in the backyard while I eat the rest of this bag of Cool Ranch Doritos. Speaking of which…
6. There's no special food I have to concoct.
Summer party food is the best. There are no turkeys to brine and wrap in butter soaked cheesecloth. I don't have to try to make a cake look like a rabbit, and I've been given a reprieve from sculpting pumpkins out of rice cereal treats. My summer party menu couldn't be simpler: hot dogs on the grill, baked beans in the crockpot (no, they are not homemade), and corn on the cob, with chips on the side. Don't expect me to make one of those flag cakes either. I don't have time to line up a bunch of blueberries and raspberries. What do I look like, the Barefoot Contessa? That's what Lofthouse cookies are for.
7. Absolutely zero magical beings running through my house at night.
Santa and the Easter Bunny are on vacation, and the Leprechauns are staying put at the end of the rainbow. There are no shelf elves to wreak havoc on my peaceful home while I sleep, and this is a wonderful relief. One of the many virtues of summer celebrations is that it doesn't involve any nightly visitations from mystical creatures (unless someone inconveniently loses a tooth, of course.) Can you imagine how disturbing it would be if Uncle Sam showed up overnight and left…I don't know, packages of explosives in your children's shoes? CREEPY!
8. Planning my outfit couldn't be simpler.
I have white shorts, a blue tee shirt, and I'm pretty sure I can dig up a red scarf to throw in my hair. Bam. I'm dressed and festive AF.
9. The parade is pretty manageable.
It's usually a bunch of golf carts and red wagons outfitted with red, white and blue streamers. The mayor rides by in a convertible, and no one cares if they miss it. That means it won't be as crowded and panic attack inducing as the fireworks later on, and we can still feel like we did something special. Or not. Last year we opted to stay in bed.
While most holidays are overwhelming, summer celebrations are when busy parents like me can truly take a break and enjoy the festivities, or lack thereof. Sure, I'm celebrating our country's independence, but I'm also enjoying my freedom from stress, expectations, and elaborate preparations.
This article was originally published on