Haven't Booked Summer Travel Yet? Don't Panic — These Sites Will Help You Save
It's not too late to enjoy a trip with the family this summer.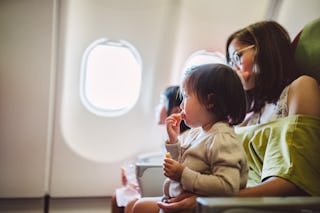 Images By Tang Ming Tung/DigitalVision/Getty Images
You don't need us to tell you that everything feels more expensive these days, so stretching your dollars wherever possible is of utmost importance. But that doesn't mean you can't plan a summer getaway, even if you're working with an understandably shoestring budget this year.
The pros at Skyscanner not only have some seriously clutch travel tips to maximize even the tightest of budgets, they also have a savings generator tool that makes the planning process much more seamless and stress-free. An added bonus: They've expanded the tool's offerings ahead of the busy summer travel season, which means it's even easier to book and prepare for some warm weather fun in the coming months.
The Numbers
Researchers have crunched the numbers, and it makes for a bleak reality. Alongside OnePoll, Skyscanner surveyed 2,000 U.S. respondents on their travel plans for 2023. They found that 61% of Americans are planning to get away this summer, but 69% have yet to book their summer vacation. The Points Guy and YouGov found that only 49% of adults plan to travel at all, with 40% of those polled skipping a summer getaway due to the high cost of everything from flights and hotels to an expected rise in gas prices. A travel report from TransUnion was slightly more optimistic, noting that 54% of households were banking on taking a trip or two this summer.
How To Save
If you're still trying to find wiggle room in your own budget, don't sweat it. After you've pinned down your desired destination (or even if you're toying with a few options), Skyscanner's Savings Generator will show you the average monthly flight price for your destination. It also shows you the best time to book your flight and the cheapest day to travel on, which helps immensely if your travel days are flexible. If you'd like to compare alternative destinations without hassle, the tool displays different destinations, their average monthly flight price for travel, and the best day to go in order to save money.
For example, if you've got your heart set on a family trip to Madrid in July, the tool offers up a savings of $251 by booking seven weeks ahead, also noting that the cheapest day to travel is Tuesday and the most expensive is Thursday if you're flying from New York.
If you're really open to ideas, click the "Not sure? Surprise me!" option, and the Skyscanner algorithm will serve deals for multiple destinations, such as round trips to Nashville from $73, Orlando from $70, and Las Vegas from $169, all in June.
Wondering how the savings generator works, exactly? Over the last year, Skyscanner has analyzed tens of thousands of booking data points drawn from 10 origin countries to their top 30 destinations.
The metrics used to create the tool:
Average monthly seat price
Cheapest week of the summer to travel
Best time to book
Best time to book savings (average price minus best time to book price)
Cheapest day of the week to travel
Cheapest day of week savings (most expensive minus cheapest day)
Cheapest destinations
Some other pro tips from the researchers: Traveling the last week of the school summer holidays in late August or early September (instead of the first) can elicit a 31% savings, which is an average savings of $1,224 for a family of four. Travelers who are flexible and can fly on less popular days of the week (like Sunday or Tuesday) can not only experience less crowded airports — which means fewer headaches for the entire family — but they can also save up to 5% on the cost of their flights during July and August.
"We know how much U.S. travelers look forward to and research their summer vacations — this year more so than any," says Laura Lindsay, Skyscanner's travel trends and destination expert. "It's therefore our duty to analyze all the data we have access to and share this insight via our Savings Generator, so U.S. travelers know how to make their money go further this summer."
"Our research shows that Americans are willing to make sacrifices, including fewer meals out and less takeout and coffee during the year, in order to save for their summer vacations, but are less likely to shop around in the way they would when doing their weekly shop or clothes," she notes. "We're aware that the summer can be a costly time to travel, so we've updated our Savings Generator to help U.S. travelers easily see how to get away within budget this summer."
"There's so much money to be saved if consumers compare their travel options, so we're building the tools for travelers to do this quickly and easily," says Lindsay. "We encourage all travelers to take note of our savvy tips and utilize the tools on our site like our Calendar View and Everywhere Search to save big this summer."
Other Great Tools
Though booking travel directly through your airline, rental, or hotel company of choice typically elicits the best rates and most flexibility for refunds/cancellations, you can find great deals elsewhere with a little flexibility and patience, as Clint Henderson, Managing Editor for News at The Points Guy, tells Scary Mommy.
"Last summer was the summer of domestic travel, and this year it's all about international destinations," says Henderson. "This summer, deals to Europe are few and far in between, so if you're looking for a deal, domestic travel is averaging $306, which is down 19% from 2022."
After you dust off your family's passports, it's time to get booking. "For the cheapest fares, flexibility is key," says Henderson. "The more flexible you are with what days you're able to travel and where you're looking to go, the easier it is to maximize deals when you see them. Using tracking tools found on sites like Google Flights and Skyscanner can help you find fare fluctuations and dips. Turning those notifications on will help you snag the best deals that will get booked up quickly."
You can also sign up for free flight alerts with Going, which boasts savings of up to 90% (!) rack rates. Secret Flying is known for finding "error fares" — i.e., when an airline accidentally posts a pricing mistake and must honor the rate for travelers who find it — which could also save you big time.
If you're traveling by train, bus, ferry, or car instead, don't miss Rome2Rio, an expansive platform that encompasses every journey by land you could imagine. DiscoverCars can help you find a car rental for cheap, offering free cancellation on every booking, no questions asked.
Looking for some time at sea? CruiseSheet can get the whole family there without breaking the bank. And for hotel deals, it's hard to beat Booking.com, which makes finding what you need not only budget-friendly, but it's an absolute breeze to navigate.