SunnyD Just Released An Alcoholic Beverage
Look for their new orange vodka seltzer in the booze aisle — and not just your '90s fantasies.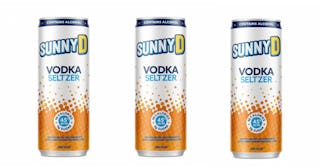 SunnyD
This is not a '90s fever dream; this is actually happening. This week, everyone's favorite orange juice-like beverage announced that it's coming to the liquor aisle for the very first time this March.
You read that right: SunnyD has created an orange vodka seltzer, and it's debuting at Walmart on Saturday, March 11, as part of a nationwide launch.
"SunnyD is a powerful brand, the most boldly unique orange drink on the planet," Ilene Bergenfeld, Chief Marketing Officer, Harvest Hill Beverage Company, shared in a statement. "Consumers are passionate about this iconic brand, rooted in nostalgia but with a taste that resonates today. Many have told us that they enjoy SunnyD as a mixer and asked for this product. So, we looked at the hard seltzer category, and thought, good, but we can do better. And SunnyD Vodka Seltzer was born."
Also in the release, SunnyD shared that they conducted a blind taste test with their new boozy beverage and found that 57% think the drink is better than the hard seltzers they usually drink and 85% think it tastes unique (um, good unique or bad unique?).
"SunnyD Vodka Seltzer is meant to be enjoyed with friends, when it's time to connect and chill out," added Bergenfeld in the statement.
Ah, yes, just like when we mixed SunnyD with dusty offerings from our parents' forgotten liquor cabinet in the basement in 1999.
Some are worried that the crossover drink could be harmful to kids, since the sober version is marketed primarily to kids and teens. Could it encourage minors to seek out alcohol?
"It is very hard if you have a brand that has been built up on a loyal followership of younger people ... to then stretch that brand into alcohol, which clearly should be targeted to people over the age of 21," Sanford Bernstein analyst Trevor Stirling, a former strategic planning director for Guinness in Ireland, told ABC News.
Over on the internet, elder Millennials have a wide variety of responses... but mostly everyone just wants to try it for old time's sake. And hey, some people have been drinking SunnyD and vodka for decades.
"I've been mixing Sunny D & liquor since the late 00's," one person wrote. "I wanna welcome everyone to this fiasco."
SunnyD Vodka Seltzer is made with real fruit juice, zero grams of sugar and 4.5% ABV. The drinks will be sold as 12-ounce slim can singles and as a four-pack at the suggested price of $9.99. Just as a reminder, actual SunnyD is made with high fructose corn syrup and less than 2% orange juice.
"We think SunnyD Vodka Seltzer may be the best news ever," Bergenfeld concluded.
Sounds like maybe someone had a few SunnyD seltzers? Or maybe they are just that good.