A Mom Calls Out Boomer Moms And Mothers-In-Law Everywhere With Her Perfect Impression
The dreaded "where are baby's socks" comments never cease.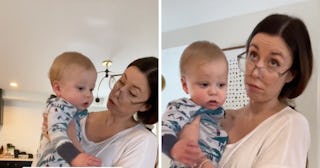 TikTok
The doorbell rings and, with baby on your hip, you open the door in your milk-stained sweatpants — your updo covered in spit up and lint — and in walks your mother (or mother-in-law if you're really lucky). The first thing she mutters has to do with socks — specifically, that your child isn't wearing any.
All moms have been there: suffering through comment after comment about her apparent lack of parental diligence. And in a new video posted by TikTok user callmekristenmarie, those incessant, passive aggressive remarks from boomer moms and mothers-in-law everywhere get the treatment they deserve.
In the clip, new mom Kristen Marie wears glasses on her nose while spouting out insults that the baby boomer generation of mothers frequently use on their adult daughters — now parents themselves.
"Isn't that nice your mom still has you in PJs at 2 p.m.," she states, baby by her side, before moving onto the next rude comment.
"Uh-oh! Your socks are missing. Did you say, 'Mommy, I'm cold!'?"
"It's me, your Mimi," the final insult arrives. "You must not recognize me 'cause you don't see me enough."
The video has nearly 200,000 likes and commenters couldn't get enough of the accuracy.
"The dead stare & pause after, 'you must not see me enough' 😂😂😂," one commenter wrote, with Kristen Marie responding, "😂😂."
"They don't recognize her because she only sees them when YOU bring them to HER 🙃," another said.
"What is the death grip that socks have on the 50+ crowd though, for real?! That and top sheets. I don't get it," a follower wrote.
It appears Kristen Marie has a thing for playfully calling out the boomer moms of the world. She's posted a few videos mentioning the generation and their lack of knowledge of celebrities, inability to accept compliments, and constant tracking of neighborhood animals.
Callmekristenmarie's TikTok bio reads, "✨Millennial mom ➡️ Midwest boomer mom fan page," which perfectly sums up her vibe. More motherhood/baby/boomer content, please!