TikTok Is Commiserating Over How Bad Male Instacart Shoppers Are
I thought, 'You can't possibly mess this up.'"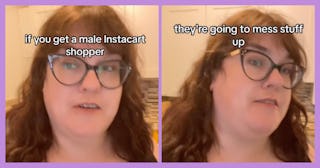 @witchy_coffee / TikTok
A viral video has started an interesting debate among TikTokers about male Instacart shoppers after a woman showed the hilarious substitute item a male shopper pulled for her grocery delivery order.
TikTok user, @witchy_coffee, shared a hilarious story about how her male Instacart shopper totally missed the boat when she asked for some sliced ham from the deli.
"So, you know the stereotype if you get a male Instacart shopper. They're not going to be able to find substitutions. They're going to mess stuff up, and I try to keep an open mind," she begins before launching into her story.
"I had a male Instacart shopper, very small order, I thought, 'You can't possibly mess this up,'" she says.
"One of the things I ordered was 1/4 pound of sliced deli ham. He couldn't find it, which I was like, 'That's weird, just ask the deli guy.'"
After the confusion, the OP's Instacart shopper called her to get some more details on what exactly she was looking for.
She goes on, "He said, 'You want a quarter?'" And I repeated, 'Yes, a quarter pound of ham.' And he said, 'Okay, I found it.'"
When the food delivery got to her door, she realized that, despite his efforts, the male Instacart shopper had gotten her the wrong item. She holds up a giant hunk of ham.
"He got me a quarter of a ham," she says deadpan.
Then she adds, "Also, I think he stole this because it rang up at $1.68. And according to the sticker, it is definitely not $1.68. So I don't know how this happened."
Her video caption: "Anyone want some ham?"
The video went viral, racking up close to 1 million views, with thousands of other people commenting on the hilarious clip, sharing their own male Instacart shopper mix ups.
"I ordered chicken bouillon cubes. He gave me two rotisserie chickens," one user wrote.
Another said, "My friend ordered cream of Tartar to make snickerdoodles and she got Tartar Sauce."
"Ordered a loofa brush and got a grill grate cleaner 😂," another jokes.
"I ordered two pomegranates and got one kiwi."
"I got a single green bean in a large produce bag."
"Couldn't find broccoli, got me one single sweet potato."
No, we don't want to stereotype male Instacart shoppers, but also, it's one of the funniest comments sections ever.
The OP is not the only one woman who has been at the mercy of a male Instacart shopper who just could not get it together.
In 2020, another TikToker posted an entire video listing off all the items her male shopper got wrong for her during a shopping trip including foods in the wrong amounts, bags of cheese that were the wrong size, and one giant pickle.
"Are men really CHOOSING to grocery [shop] for hangry women!?" she captioned the post. "If I wanted everything wrong, I would have sent my husband."
One commenter pointed out a great idea that may alleviate some of the frustration that can come with male Instacart shoppers who are lazy or lack critical thinking skills.
"Instacart should really have some sort of test you have to pass to be a shopper. Even just like matching pictures with descriptions."
Brilliant idea.
Until then, enjoy your ham.