The 19 Best Toddler Sneakers For Comfort And Cuteness
We only recommend products we love and that we think you will, too. We may receive a portion of sales from products purchased from this article, which was written by our Commerce team.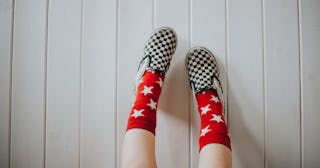 Getty Images/Catherine Falls Commercial
Here's the deal with toddler sneakers: They're going to grow out of them five minutes after you buy them. So while you'd like them to be comfortable on little feet and well made to stand up to the demands of the rough-and-tumble toddler lifestyle (and toddler activities like riding their tricycle, or playing in the sandbox) you know they're also going to end up covered in mud (and probably also body fluids). So you don't want to break the bank, which is why we've also included some toddler shoes that are shockingly affordable.
On the other hand… they're only going to be toddlers once! How cute are they right now? And how much do you love styling them to the nines for those precious family pics? Because we know you'll want the best of the best and not just what's on sale (all that's always nice too), you've got to know what to look for when it comes to toddler sneakers. From the type of insole to the outside materials — it all matters, Mama.
What to look for in toddler sneakers
Dr. Ashley Lee of the Northern Illinois Foot & Ankle Specialists gave her insight on the subject of toddler sneakers. As the previous Chief of Podiatric Surgery at Northwest Community Hospital and current mother of two boys, she says that flexibility and support are a top priority.
"The ideal toddler shoe should have a flexible insole with a slip-resistant sole, but the material around the heel cup should be more supportive. You should be able to flex the sole easily at the toes," Dr. Lee says. "The shoe should be made of materials like canvas, leather, or cloth (with or without mesh), not rubber or plastic, to allow for breathability."
In terms of fit, Lee suggests broad toe boxes and Velcro closures. "The toe box should be broad, giving the toes room to move, which helps to build strength in the muscles and tendons in the foot," Dr. Lee added. "The closures should be secure. Laces untie easily, so a strong Velcro closure or a lace/Velcro combination is often preferred."
Fortunately, we have options that fit the bill. These are among the best toddler sneakers you can buy online right now, in a range of prices to suit your budget… and a range of looks so you can nail your mini's #OOTD.
Podiatrist-Recommended Shoes for Toddlers
Is there anything cuter than canvas hightops for the tot in your life? Turns out, they're more than just an outfit maker. "See Kai Run was popular for my boys. Not only are they stylish, but they have a wide opening for cubby little insteps with very secure Velcro closures," said Dr. Lee. "See Kai Run shoes are also flexible, yet stable with a broad toe box." Choose from six color schemes.
"Saucony Kids and New Balance Kids have great gym shoes options for when your toddler is running more. They both have more room in the toe box than most toddler gym shoes and are supportive, durable and flexible," Dr. Lee says. And these Saucony kicks come with the easiest hook-and-loop closure so you don't have to mess with laces. Choose from more than 30 color offerings.
Best Toddler Sneakers
With an under-$20 price and plenty of adorable designs, it's easy to see why these toddler sneakers have racked up rave reviews on Amazon (some 6,000+ ratings and counting). The double hook-and-loop closure makes them easy to get on your little one's feet and the cottony fabric is breathable and durable. One shopper noted, "I found this sneaker easy to clean. It holds up well to someone who likes to stop her Big wheel with her toes. The fit is great and I think it gives her more room in the toe area. The shoes are easy for her to put on and take off by herself."
Anything mini-sized is adorable, especially when it comes to Vans. These checkerboard slip-ons remind us of our high school days (anyone else listened to Ska?) and now we're reliving our youth through our toddlers. We love the checks (although you can get other styles and colors mini-sized), and they're made with the same, durable canvas and elastic sides that will withstand months and months of playtime. The only downside is that they'll only be able to wear them for so long before they grow out of 'em.
With shoes this cute and under $30, you've got to get a few different pairs. This sneaker from Weestep comes in sky blue, yellow, coral, and even an adorable camo print and metallic pink. It also has an invisible elastic band under the tongue, so the laces are just for decoration. One thrilled shopper reported, "I have ordered 3 pairs of these so far. absolutely LOVE them. My daughter has wide feet and it is hard to find shoes that fit her. These are perfect on top of being adorable!!"
Native is already a fan favorite in our mom circles, but did you know they have kicks for kids too? These adorable slide-on sneakers will be a hit with your toddler! From the airy, odor-resistant foam upper to the grippy rubber soles, these shoes are perfect for a water-loving toddler. And the best part? They're 100% washable! (*Cue happy dance*). No more worries about staining their shoes, because with these — you can just rinse them off. We'll take one less stressor anywhere we can get it!
Best Toddler Black Sneakers
This adorable toddler running shoe is lightweight, comfy, and easy to throw on. With over 6,000 positive reviews on Amazon, parents are raving about this toddler sneaker from DADWEN. "SO much cuter in person!" said one mama. "I needed a comfortable light weight affordable shoe for my 3 year old to wear to school. I didn't expect to like them this much! Excellent material, very light weight and they look amazing. My teenager wants a pair lol. Buy them."
These high-tops are cute unisex sneakers at a wallet-friendly Carter's price point. The synthetic shoes have triple hook-and-loop straps that makes dressing simple so kids can help put on their own shoes — and you can get out the door quick (that is to say, as quick as getting out of the house with a toddler can actually ever be).
How do we love Stride Rites? Let us count the ways. This beloved brand has earned a loyal parent fanbase for getting the details right: Flexible soles for natural movement, a leather upper for long-lasting wear, and stylish designs that are nothing if not photo-ready. The memory foam insoles will keep your tot comfy and cruising all day long. One reviewer reported, "These are a great pair of shoes for littles learning to walk, they are comfortable from what i can see. They fit my littles feet perfectly. I honestly have nothing bad to say about Stride rite." Choose from five cute colorways.
Best Toddler White Sneakers
If it ain't broke, don't fix it! Classic white adidas with black stripes are always in style. This unisex toddler version has Velcro straps so it's easy to slip them on and off wriggly little feet. This toddler version comes in synthetic leather upper (and you definitely won't miss the durability of leather for a shoe they'll only fit into for a few months).
Anyone — even a toddler — can appreciate a crisp white sneaker and this pair from Ralph Lauren is about as sharp as it gets. Made from real leather and featuring easy-on hook-and-loop straps, these kicks are pretty and practical — plus, they'll net you compliments wherever you go. One shopper noted, "My son has a wide foot and these fit him well. The quality of the leather is nice and they're easy to clean." Choose from three color options.
Slip-on sneakers mean they can be outside in no time! The dainty doodles on this pair of kicks are nothing short of adorable, but they're still simple enough to go with any outfit. If you love the style but aren't crazy about the print (as if!), there are 3 other options to choose from, including shiny silver.
Best Toddler Boy Sneakers
Does it get cuter than toddler boat shoes? We think not. This pair from Nautica comes with elastic goring on the sides so your little one can slide their feet in and you don't have to have a wrestling match trying to get their laces tied. Choose from more than a dozen different colors, including some with airy perforation. One shopper raved, "Great shoes, seem like they are really good quality and will last a long time."
Boasting more than 10,000 positive reviews on Amazon, these sporty Under Armour sneakers are beloved for being cute, comfy, and good for life on the move. They feature decorative laces but a functional hook-and-loop strap closure, plus a cushy EVA midsole. You (and your little one) might like them so much, you'll be back for another color — good thing there are plenty to choose from.
Dinos on your feet makes your day a little more fun, amiright? These slip-on, canvas-like sneakers feature colorful dinosaurs over a cool gray background. So really, these babies can go with any outfit. Parents are raving about how lightweight and comfortable they are. But if dinos aren't your kiddo's obsession, there are plenty of other prints to choose from, like rainbows and doggies. "I love the fact that the surface is wipeable and easy to clean," one fellow parent noted. "It's well padded and the elastic fit keeps the shoe in place-even when on the swings at the playground."
Best Toddler Girl Sneakers
These adorable, affordable canvas sneakers come in a range of patterns that your little one will love. From this cool green tie-dye (perfect for spring!) to blue camouflage, pink plaid, and purple rainbows. One reviewer said, "Bought for my daughter. Shoes were easy to put on and didn't rub the back of her heels like most shoes made like this."
These playful sneakers embrace everything fun and extra about being a kid: They light up! They sparkle! They're emblazoned with rainbows and unicorns! This shoe is available in a few different designs, but all guarantee to be your tot's new favorite pair. There's even a on-off button for those lights. One mom reported, "I bought these for my 4 year old daughter who loves unicorns and light up shoes. She instantly fell in love with these shoes upon receiving them. She has worn them every single day and refuses to wear any other shoes so I'd say they were a big hit!"
Well over 6,000 reviewers give this New Balance sneaker cult-favorite status. Leather and mesh comprise the upper, for a combo of breathability and durability. The midsole offers plenty of cushioning and compression resistance, so kids' feet will stay comfortable throughout their day's nonstop activities. These come in close to 30 colors.
If your little one is all about the frills, then get them these sweet bow slip-ons — that still hit plenty of practical notes. They're made of breathable mesh, so they feel comfortable yet are sturdy enough for daily wear. The rubber grippy sole ensures your kiddo won't easily slip and fall, and the hook-and-loop strap at the top makes them easy to put on (even if you still have to do it for them). One shopper raved, "They're very lightweight and have held up at daycare really well so far. It's a great play shoe, Definitely recommend!"