Stomach Sensitivity Friendly
12 Trader Joe's Gluten-Free Recipes That Don't Skimp Out On Flavor
Leave your tummy ache at the door.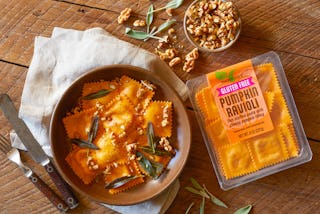 Trader Joe's
There's a lot to digest when it comes to understanding gluten and wheat allergies. No pun intended. Symptoms such as hives, stomach cramps, and nausea can vary by person, and the allergy can pop up out of nowhere in both children and adults. The good news is that by eliminating certain foods from your diet (like bran, flour, wheat, couscous, and pasta), you can keep symptoms at bay.
Conversely, even if you aren't celiac, you may just not like the way your body feels after consuming a gluten-heavy meal. Unbuttoning your pants at a restaurant? Not ideal! Fortunately, Trader Joe's offers tons of gluten-free alternatives, so you don't have to miss out on your favorite foods. Pasta, granola bars, soups, bagels, tortilla chips — TJ's has thought of it all.
This menu of Trader Joe's gluten-free recipes covers a wide range of meals (and finger foods!) to different kinds of worldly cuisines, including Italian, Mexican, Middle Eastern, and more. There are quick and easy, last-minute recipes, recipes for lazy cooks, recipes that are perfect for meal prepping, and recipes that will leave your guests impressed. Many of these can be made meatless, too, by swapping out seafood for tofu or squash, and red meat and poultry for soy chorizo, chickpeas, or other plant-based alternatives.
Hungry? Find your new favorite gluten-free recipes below.
1. Gluten-Free Shrimp Scampi Tagliatelle
Even with a corn and rice flour base, TJ's gluten-free tagliatelle still has the pasta noodle's infamous ribbon shape, which is great for mopping up creamy and garlicky sauces like this one. For a bit of crunch, TJ's suggests topping each serving with a sprinkle of toasted (and gluten-free) nutritional yeast. Now that's amore!
2. No-Tortilla Quesadilla
TJ's Egg Wraps are an easy way to get around recipes where the main ingredient is tortillas. Because they're not as thick or dense as, say, flour tortillas, your filling does all the talking so don't be shy. With these no-tortilla quesadillas, you can go a little crazy with a hearty blend of cheeses, veggies, salsas, and meat, or not!
3. Cranberry Orange Cornbread
Trader Joe's does a great job at making sure its gluten-free customers don't miss out on seasonal treats and recipes. The key difference in this GF alternative is that it's made with brown rice flour instead of wheat flour. Unfortunately, though, that doesn't mean it takes less time to bake. You'll have to wait 50 minutes before you can dig into this cranberry orange cornbread, but you'll have leftovers to enjoy throughout the week.
4. Chimichurri Fettuccine
In a pinch? Well, you're in luck because TJ's egg fettuccine pasta only takes three minutes to cook. And if you're really looking to save time, you can pick up a bag of frozen, pre-cooked shrimp. You'll have dinner on the table before the wine has been poured.
5. Kick S'moreover Dip
Indulge in your favorite summertime sweet year-round with this gooey-to-perfection s'mores dip. The 20-minute recipe only calls for four ingredients, including TJ's vegan, gluten-free marshmallows. You can make it a BYOC (bring your own cookies) party, too!
6. Hot Hot Shrimp Tacos
Breaded shrimp sans the gluten? Count us in! If you're looking for something a little more hearty, you can turn this dish into a Hot Hot Shrimp Bowl recipe with cauliflower rice and beans.
7. Grilled Caprese on Cauliflower Crust
Gluten-free bread isn't hard to come by in this day and age, but GF bread that doesn't taste like cardboard? Now that's a different story. In this recipe, you create your own cauliflower crust using TJ's Frozen Riced Cauliflower, eggs, and shredded mozzarella. While a little time consuming, it's perfect for meal prepping lunches.
8. Gluten Free Pumpkin Ravioli
Don't you love when the product itself is the meal? Pop these GF babies into boiling water for about three minutes then toss with toasted pumpkin seeds, sage or rosemary, and freshly shaved parmesan.
9. Slow Cooker Chicken Chile Verde
Whether you're meal prepping or feeding a crowd, crockpot meals are the go-to move. Simply throw everything in, go about your day, and when you come home you'll have dinner cooked and ready to serve. This recipe is also fun if you're craving Mexican food and are tired of tacos and quesadillas.
10. Gluten Free Double-Cheese Pizza
BYOP night minus the bloating and indigestion! TJ's gluten-free pizza crusts contain cauliflower, cornstarch, rice flour, and chickpea flour. Some of our favorite pizza ideas include: buffalo chicken pizza, BBQ chicken pizza, white pizza, veggie pizza, and Hawaiin.
11. Chunky Spicy Shakshuka
A 10-minute meal that looks like it came straight out of a magazine, TJ's Chunky Spicy Shakshuka recipe calls for five ingredients, only one of which you really need to cook. Pair it will your favorite gluten-free bread, toasted, of course.
12. Shawarma Chicken & Rice Soup
A spicy spin on the beloved chicken and rice soup combo, this flavorful recipe centers around Trader Joe's Shawarma Chicken Thighs, which as you can guess from the name, already come marinated. To save yourself some time (and dishes), snag a container of chopped carrots, onions, and celery, also known as mirepoix. This dish makes about eight servings, making it another handy meal prep hack.