The Ultimate Last Minute Gift Guide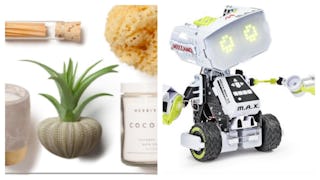 LEFT:KNACKSHOPS.COM RIGHT:WALMART.COM
With so many products out there to choose from, the Scary Mommy editors wanted to put our favorites together and hopefully make it ultra easy for you to get your shopping done. We are down to the wire now, folks.
(Also, sending this list to your partner is sure to give them the nudge they need to get you exactly what you want this Christmas. You deserve it.)
This power hub has a unique design and will help keep your home clutter free. It lets you charge up to seven devices, including two A/C appliances while only using one outlet.
With over 220 countries to explore and 42 games to play, your kids are going to love learning with this Scientific Globe Explorer.
There isn't a woman alive who doesn't love a nice, pampering gift set. This one by Knack is perfect and sure to make anyone feel relaxed and special.
We can never have enough pouches to carry all of our stuff. This one from Meridian has a vintage vibe and is the perfect size for traveling.
Listen to music, charge your device, and get ready for your day with this double-sided mirror. It provides natural lighting, and 1x or 7x magnification.
Getting rid of the bags under your eyes can be as easy as going to sleep. Simply put on these hydrogel eye masks, catch some Zs, and you awake feeling and looking refreshed.
We are obsessed with this kickass mug from Always Fits. It's the perfect gift for all the amazing women in your life.
With it's gorgeous packaging, these potion kits are going to be the most magical gift you can give your child this year. This is the ultimate non-toy gift, folks. It's sure to bring fun to the entire family.
This award-winning 12-inch robot can walk, talk, answer questions, and more. If you have a robot-lover in your family, this is the perfect gift.
This kit includes everything your child need to sculpt some fun creations and will keep them happy for hours.
We all love a good nerf gun fight, and the Nerf Rival Nemesis doesn't disappoint with its easy-load hopper that holds 100 rounds .
Is it even the holidays if you don't buy a LEGO set? My son loves this Arctic Batman Vs. Mr. Freeze set.
'Tis the season to splurge and finally get that new mattress you've been wanting (and needing) for way too long. Snuz memory foam mattress is guaranteed to give you your best night's sleep. Bonus: delivered straight to your door, without a trip to the furniture store.
We love all of their pieces, and the fact AWEinspired gives 20% of every sale to one of their four National Charity Partners. A gorgeous gift that gives back.
Not only is this doll absolutely precious, it can record and play back your heartbeat to help your sweet baby sleep better. A great gift.
This is the play gym every baby needs. Lovevery put in extensive time and research to ensure your baby will have everything they need for their first year of play.
This soda maker is stainless steel with a vintage flair. It's a super fast way to make soda water for your favorite cocktails or mocktails. This is the perfect gift for your friend that always has a La Croix in their hand.
16. Spangler's String Slime
If you have a slime fan, you are going to love this string slime. It's a no glue, no borax formula that your kids can make themselves. Yes, you read that right: no glue, no borax necessary.
LEGO has done it again with this building and coding kit. The robot comes complete with a move hub, color and distance sensor, motor, and can also act as a light.
18. Dermaflash
This amazing device lets you remove hair and build up from your skin from the privacy of your own home and leaves you feeling soft and supple. Your makeup glides on smoother, your serums soak in better, and you can save your spa days for the good stuff (like a hot stone massage).
The beachwaver curling iron makes it super easy to create those beachy waves that everyone is after. The mini clamp lets holds the end of your hair, making it quick and easy to twist the rest into the perfect curl.
Why not give someone the gift of a nice sparkling beverage while donating to important causes? One Hope Wine donates a portion of their profits to charities, and helps those in need with health care, meals for children, life-saving vaccines, and more. Plus, it's the most gorgeous bottle you've ever seen.
Rags was created by a woman who started making clothes for her kids that were comfortable and easy to take on and off — no snaps or buttons to mess around with. Before she knew it, her brand was growing, and now every mom wants to get their hands on her pieces for their little ones. Make sure to check out their new Nasa line, which has tees for parents too.
This watch from Solgaard is simple, sleek and beautiful. The Hex shape makes it unique. It can be dressed up with some gold bangles, but also looks amaze with your favorite activewear. The perfect wrist candy.
Have fun shopping for those you love, but don't forget to throw something in that cart for yourself. Happy holidays!
Editors may receive samples and/or a share from purchases made via links on this page. All opinions are our own.
This article was originally published on