This Wife Cleaned & Baked For Her Husband's Guys' Night & The Internet Promptly Shamed Her
TikTok shamed her for perpetuating stale gender roles.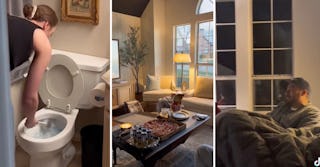 A wife on TikTok is taking the brunt of a lot of criticism after she shared a video where she cleans, cooks, and preps her house perfectly before her husband has some friends over for a guys' night.
Marina Villegas (@visitvillegas) posted a now-viral video where she documented herself cleaning, cooking, and getting her house prepped for her guests.
However, when the internet learned that the guests in question were her husband's guy friends — people immediately flooded Villegas' comment section with words of criticism for perpetuating sexism and old-school domestic roles.
"Husband called and asked if his friends from work could come over for a movie night," Villegas wrote in the text on the video she posted.
In the video, viewers see Villegas scrub toilets, empty the garbage and clean up the house before she heads to the kitchen to bake chocolate chip cookies for her husband, Max, and his friends.
She also set up popcorn and beer in the living room and ordered the guys pizzas, creating a picture-perfect spread.
"I had deep cleaned the house on Sunday so it was basically ready except for a couple things," she captioned the video that now has over 15 million views.
"I needed to make some snacks...Jurassic Park is one of my favorites."
The video — which Villegas assumed would be just another fun ASMR clip to add to their page — blew up with thousands of people commenting negative and judgmental takes on her above and beyond act of service.
Several comments shamed Villegas for doing too much and accused her husband of taking advantage.
"No no no these are grown men," one woman wrote, "use the time to go do something for yourself. OMG, I'm going to worry about you for years."
"Wow, women still do this?" another quipped.
Another wrote, "I love that my generation won't be raising their husbands."
Several TikTok users also turned their sights on Villegas' husband, wondering how he contributed to his own guys' night.
"And what did he do?" one woman commented.
Another echoed, "Husband? If he wants his friends over, he can clean up and cook."
Despite the negativity, several users came to the defense of the couple, remarking that many of the hurtful messages were just trolls who had an issue with a wife doing something nice for her husband out of jealously.
"Sometimes, when two people love each other, they do nice things for each other!" one user wrote.
Another said, "This is sweet of you! Ignore the haters. A love language is making things for our partners. It's therapeutic for us. Hope you had some for yourself too!"
In a follow-up video, the couple responded to the backlash and addressed the criticisms that they were continuing to condone sexist gender roles.
"Some of y'all have big mouths and I just want to let you know, I do too," Max Villegas said in a voiceover in a video showing footage of himself buying flowers and Trader Joe's treats, showing that he does, in fact, reciprocate thoughtfulness for his wife.
"You guys, it's okay to have an open line of communication with your wife, and it's definitely okay to be considerate of your spouse. There's nothing wrong with doing things for each other and having each other's back."
The clip continues on to show his wife elated over the gesture while Max narrates that he "did not expect Marina… to get the house ready for our guests, nor does she expect me to bring her flowers every day, but I do it because I love her."