Divorcing Mom Granted Huge Payout For 25 Years Of Unpaid Housework
In addition to the payout, her ex-husband must also pay her a monthly pension.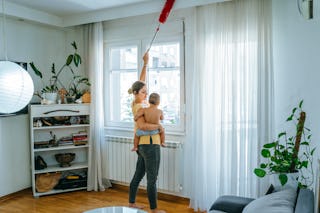 Obradovic/E+/Getty Images
In too many marriages, the wife takes on the majority (if not all) of the housework — and it's only sometimes her idea to split the labor that way. For decades, patriarchal standards of what a "typical" marriage should look like leans into the idea that women raise the kids, clean the house, and take care of the home while the man goes out and supports financially.
While this dynamic may work for some families in today's world, it cannot be ignored that the work wives and stay-at-home moms do is unrelenting, constant, leaves little room for breaks.
Stay at home moms are never off the clock for a job that they get zero payment for.
In fact, Salary.com estimated that if stay-at-home parents earned an annual salary for all the jobs they performed (chef, house cleaner, chauffeur, personal assistant, etc.) on a daily basis in 2020 and 2021, the median salary would exceed $184,000.
Imagine for a moment, the idea of getting a paycheck for a mom's often thankless job. Welp, for one woman going through a divorce, she finally got that back pay.
A woman in Spain just received a record divorce settlement from her ex-husband for 25 years of unpaid housework.
Ivana Moral, 48, took on all household chores during her 25 year marriage to her now ex-husband. The Spanish courts are ordering that she be paid for that unpaid labor.
In a decision that became public on Tuesday, a court in Velez-Malaga, southern Spain, ruled that Moral should be paid the equivalent of $215,664 by her ex-husband in compensation for unpaid housework during their 25-year marriage.
She will receive the equivalent of Spain's minimum monthly professional wage for the years they were married. Moral will also receive a pension of $527 per month as well as $427 and $641 for the couple's two daughters, ages 20 and 14.
The amount should be way more than this, but, hey, yay for progress.
The ruling made by Spanish courts said that Moral performed all of the house chores "exclusively" during their marriage, which included contributing "punctually" to the family's gym business, according to Euronews.
The ruling also also stated that the stay-at-home mom was owed the compensation because she was "deprived of any possible career due to her exclusive dedication to the home and family," adding that her ex husband did nothing but prosper during their marriage, per Euronews.
According to the i, he was able to buy several luxury cars like a Porsche, a Range Rover, and a BMW as well as motorbikes and a 173-acre olive oil farm with the earnings from the family gym business.
Yup, the business he was able to make successful thanks to the devotion of Moral, who was taking care of quite literally everything else.
Spanish newspaper, NIUS, reported that the olive farm brings in up to $4,215 for the ex-husband each month. Meanwhile, his ex reportedly couldn't even afford to buy her daughters a set of workbooks for school.
Moral claims her ex also refused to pay for one of their daughter's schooling costs when she turned 16.
"Clearly this was a case of abuse to be completely excluded financially (by my ex-husband) with nothing left after my marriage ended, so me and my daughters were left with nothing after all these years of putting all my time, energy and love in the family," Moral tells EuroNews.
"I was supporting my husband in his work and in the family as a mother and a father," she added. "I was never allowed access to his financial affairs; everything was in his name."
When the couple married in 1995, Moral signed a separation of goods agreement which meant that she and her husband would split their home and common possessions, but he would hold onto his money.
"The reason I decided to speak to the media is I wanted women to know that we can claim for housework when there is a separation of goods agreement," Moral said in an interview with the i.
While this ruling is record-breaking, the story that led up to it is all too common when it comes to the unpaid labor moms put into their families every single day. And it still sounds like Moral is not getting a fair split of all that her family earned during the years of their marriage.
"This ruling represents the labour of all the women in the shadows and who, without a doubt, constitute a fundamental support in personal, marital, and familiar terms during years and years so that the ex-husband could develop his professional career and a rise in wealth which at the moment of separation could not share," Moral's attorney, Marta Fuentes, tells iNews.