Lifetime Casts Real-Life Couple For Its First LGBTQ Holiday Movie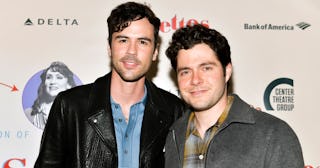 Rodin Eckenroth/Getty
We're very pleased to say that Lifetime has outdone itself casting its first LGBTQ Christmas romance
Sure, it's still technically summer. But we've already been sipping on PSLs for a few weeks, and that makes it feel like Christmas is just around the corner. And you know who isn't helping suppress our desires to put on scarves and bust out the hot cocoa? Lifetime, who is already bringing all the hype to its upcoming holiday movie lineup.
The network has already announced that it has a whopping 30 new holiday movies slated for the 2020 season, and that one of those will be the first-ever Lifetime holiday romance to feature and LGBTQ love story. And now, the network is finally giving us some details about that story, including its cast, and let us just say, they've outdone themselves.
Lifetime's new LGBTQ love story, The Christmas Setup, will star real-life married couple Blake Lee and Ben Lewis. They say art imitates life. But in this case, does art imitate… Lifetime?
You might recognize Lewis from Scott Pilgrim vs. The World, and Lee is well known for his recurring role on Parks and Rec as Derek, April's bisexual boyfriend. And to put the cherry on top of the incredible sundae that is this cast, The Christmas Setup will reportedly also star Fran Drescher in all her fabulousness, as a meddling, matchmaking friend who sets up Lewis' and Lee's characters in a home-for-the-holidays type story. How many days until Christmas? Because we officially cannot wait to tune in for this movie.
It would appear that Lifetime has been listening to its viewers' calls for more diversity in its movies, because not only will The Christmas Setup feature an LGBTQ love story and star LGBTQ actors, but it was also written by members of the LGBTQ community. That kind of representation is what we're here for during holiday movie season, so here's hoping the network keeps it up for years to come.
Lifetime's 2020 lineup of holiday movies will start airing Oct. 23, and roll right through the holiday season. Mark your calendars now, people, this is an event that can't be missed.