Lil Nas X Posts Video Of Himself (Literally) Giving 'Birth' To New Album
by Kristina Johnson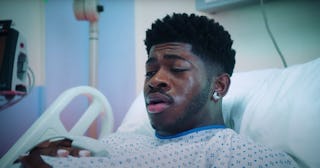 Lil Nas X/Youtube
Lil Nas X has given birth — to a brand new album
First, there was the pregnancy announcement. Then, there was the baby shower. And now, the new "baby" is finally here for Lil Nas X — it's just that it's got 15 tracks instead of 10 fingers and toes. The superstar rapper dropped his much-anticipated album Montero today and couldn't resist giving fans a peek inside the delivery room.
Lil Nas X posted a hilarious video on Instagram in which he gives birth with the help of two very confused doctors. It really just has to be seen to be believed. He's frantically wheeled into the delivery room as he pushes and grunts through labor (apparently, he even poops on the table, so props for that realistic touch).
At one point, all the talk about "the baby" leads to some confusion and the delivery room breaks into a dance by Da Baby. It's so silly, so funny, and it's basically impossible to get through the video without laughing.
When the big moment comes, Lil Nas X's album slides out from between his legs (I personally could have done without the accompanying squelching noises, but art is art I suppose) and shows us that Montero is finally here.
"It's beautiful," one doctor says as he hands Lil Nas X the new bundle of joy. "Thank you," the proud daddy answers. "It's already grammy-nominated!" The whole clip is just absolutely bonkers in the best way, and basically everything we've come to expect from the always over the top rapper.
And that wasn't even the only gift he gave to fans to celebrate the album's debut. Lil Nas X also dropped a Brokeback Mountain-inspired video for "That's What I Want". The video opens with the rapper dropping into the middle of a football game clad in a pink uniform, before hitting the showers for a hot and heavy hook up. The video then cuts to Lil Nas X and his love interest clad in cowboy outfits sitting around a campfire.
But just like in the film, the romance is ill-fated, since his lover's already got a wife and child. Nonetheless, the rapper dons a white wedding gown and walks down to the aisle in the next scene in a church, where another queer Black icon — Billy Porter — hands him a guitar. So I guess Lil Nas X is married to his music now? Which actually kind of makes sense, because this man has been BUSY releasing chart-topping singles, videos that generate millions and millions of views, and of course, making conservative brains explode on the regular.
The release of his debut album is a huge moment for the rapper, and all the fanfare around it is so deserved. Like so many other parents that have given birth before him though, it's a pretty safe bet that Lil Nas X will now be faced with one big question: when is number two coming?