Lil Nas X Surprises School Kids With Free Show And Their Reaction Is EVERYTHING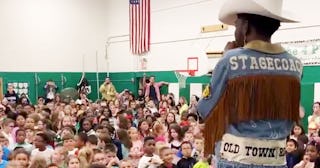 Complex/Twitter
Watching these kids lose their minds while Lil Nas X performs is guaranteed to warm your heart
If you have kids, or have turned on the radio in the last several months, or just exist here on Planet Earth, you are aware of Lil Nas X. His breakout single, "Old Town Road" (a hip-hop collab with Billy Ray Cyrus, because that's just the sort of thing that happens in the year 2019), is everywhere. It's been topping the Billboard Hot 100 for a full eight weeks. It's on the radio about every 13 seconds. It plays at school dances and talent shows. I was just in Malaysia and heard that song play in public spaces no fewer than 75,000 times. We're not mad about it. It's a ridiculously catchy tune.
Kids especially are taking their horses to the Old Town Road. Just check out this video posted by the principal of an Ohio elementary school, showing pretty much the entire school jamming out to "Old Town Road" at a talent show two weeks ago.
Lander Elementary School Principal Felicia Evans tagged Lil Nas X in the tweet, but she didn't expect him to reply. And she especially didn't expect him to reply and say this.
Surely he wasn't serious. Except he was. After she saw the response, Evans started messaging with Lil Nas X on Twitter and making arrangements for him to perform a surprise show at Lander. As she coordinated with a few trusted faculty members and the local police to make the plans, Evans even lied to local media to keep them from blowing her cover.
"It was completely a secret," she said. "The day before, the media had contacted me and I said, 'Unfortunately, we're not going to make it work.'"
In less than two weeks, they managed to pull off the surprise of a lifetime for all the kids at Lander. And the payoff was clearly well worth all the work that went into organizing the show. Watch these kids lose their tiny minds and scream along with the song and just try not to let it make your whole damn day.
This person pretty much sums up all of our thoughts.
Video of Nas' surprise performance took Twitter by storm, and for good reason. It is so cute and wholesome and sweet. It's no wonder people are loving it.
Evans said Nas didn't even just perform the song — he also hung out at the school, high-fiving kids in the hallways and taking selfies with them. Then he headed to the playground to chat with parents who were arriving to pick their kids up after school.
"Never in million years did I think tagging him on Twitter would result in this," Evans said.
We're so glad it did.
Let's face it — we're suckers for celebs doing this kind of sweet stuff for their fans. Like when Childish Gambino crashed a high school open mic, or when Justin Timberlake surprised kids at a children's hospital with an impromptu performance. Let's have more stars doing things like this, please.
This article was originally published on