There's A New Lilly Pulitzer Collection At Pottery Barn Kids And You're Going To Want It All
by Julie Scagell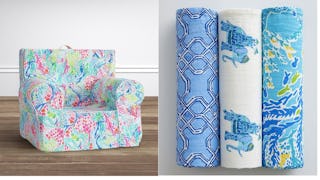 Image via Pottery Barn Kids
The iconic brands teamed up to create an adorable kid's collection
If you're a fan of Lilly Pulitzer's clothing and accessories, hold onto your pink damask hats because the iconic brand has teamed up with Pottery Barn Kids to create an entire collection and you're going to want all of it.
The exciting collaboration will have your kid's room looking like a Palm Beach resort in no time. Known for its bright, colorful designs and bold patterns, the Lilly Pulitzer resort wear brand teamed up with Pottery Barn Kids to deliver bedding, decor, and furniture for our little ones that will be pleasing to look at while we're cleaning gum out of their carpet and putting away piles of laundry.
The line, which launched this month, features some of the signature hand-painted Pulitzer prints and as well as ones designed exclusively for Pottery Barn. According to the Pottery Barn website, "Each print was created in the Lilly Pulitzer Print Studio and has a certain sunny disposition you won't find anywhere else."
With names like Pink Lemonade, Tons of Fun Crib Sheet, Mermaid Cove Pillow, and Oh Shello Sham, you'll be digging (albeit deep) into your pocketbooks to buy them all.
And seriously, if you have a wee one can you image how scrumptious they will look wrapped up in one of these? It almost makes me want to have another baby. (Bahaha I'm kidding, but only a little.)
It would be impossible to be in a bad mood around all these bright, clean colors and patterns.
Pottery Barn is famous for partnering with big brands to deliver something that feels more like an experience than just another kid's room. Their Harry Potter themed rooms were an instant hit and who can forget the Star Wars inspired decor? I just wish they made something like this for adults because I would be totally down with, say, a Golden Girls inspired bedroom. Though I'm betting my husband would have something to say about it.
"Partnering with the Pottery Barn brands is a wonderful fit – we are excited to give our customers the chance to bring Lilly's colorful Palm Beach style into their homes," said Michelle Kelly, Chief Executive Office at Lilly Pulitzer.
OK, that chair makes me want to rock alllll the babies. All of them.
Of course, anyone who knows Pulitzer's brand knows the stuff isn't cheap. With items ranging from $17 all the way to $1,299 you may have to pick and choose wisely. But scrolling through the collection, it's hard not to want it all. Now.
This article was originally published on