Devastating Limo Crash Takes 20 Lives -- Including 4 Sisters Celebrating A Birthday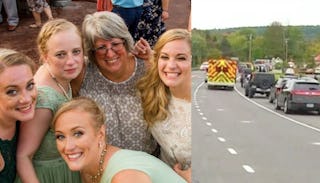 Image via Facebook/CBS News
The tragic crash is the most deadly transportation event in the United States since 2009
A stretch limo crash in the small upstate New York town of Schoharie left all 18 occupants dead as well as two pedestrians. The accident, which involved a group of friends and relatives traveling to a brewery to celebrate a birthday, is now under investigation while families of the victims and a whole community is left in shock and mourning.
According to NBC News, the accident took place just before 2 p.m. on Saturday, October 6, as the limo barreled through a T intersection, struck an unoccupied vehicle in a restaurant parking lot, and then drove into a shallow ravine. The unoccupied vehicle then spun and slammed into two pedestrians. Witnesses say the limo was traveling at a high rate of speed, and officials reported that there were no skid marks on the road that gave evidence of braking.
It's not known if the limo driver, who was killed in the crash, could have been distracted, under the influence, or the victim of a medical emergency — or if the limo could have suffered a mechanical failure.
However, community members report that the intersection, which occurs at the bottom of a steep decline, has been the scene of previous similar accidents — and that tractor-trailers were recently barred from using the road for that reason.
According to the New York Times, the limo was rented by Axel Steenburg, who was throwing a surprise birthday party for his wife, Amy, who he married last summer. Other party goers included three of Amy's sisters (Mary Dyson, Allison King and Abby Jackson), Mary and Abby's respective husbands (Rob Dyson and Adam Jackson), and Axel's brother, along with various other friends and relatives. Most of the occupants were in their 30s and recently married, and some had small children.
"They did the responsible thing getting a limo so they wouldn't be driving," Barbara Douglas, an aunt to the four King sisters said. "My brother and his wife are just overwrought. I don't know how to say it. Can't wrap your head around such a tragedy where you have four of your daughters die."
Most of the victims were from the small city of Amsterdam, New York, or the surrounding area.
At least three children were orphaned in the horrific crash. Adam and Abby Jackson were killed in the limo crash, leaving behind a 4-year-old daughter, Archer, and a 16-month-old daughter, Elle. A GoFundMe page has been set up for the two sisters.
A fundraiser for Tom and Linda King, the parents of the four sisters who were killed in the crash, is meant to help offset whatever costs the family incurs from funerals. At this time, almost $100,000 has been raised.
Among the other victims are:
Rich Steenburg, Axel's brother, who leaves behind a 10-year-old daughter and 14-year-old stepdaughter.
Erin and Shane McGowan, who had also recently married.
Couple Patrick Cushing (Erin McGowan's cousin) and Amanda Halse, of Troy, New York.
Friends and relatives of the victims said that the group was tight-knit, and celebrated birthdays, weddings, and other events together, and often had backyard parties together.
New York Governor Andrew Cuomo sent his condolences in a statement on Sunday, as did New York Senator Chuck Schumer.
This is the most deadly transportation accident to take place since Continental Flight 3407 crashed in Buffalo, NY, in 2009, killing 49 on board and one person on the ground.
"Twenty fatalities is just horrific," National Transportation Safety Board Chairman Robert Sumwalt said at the news conference. "I've been on the board for 12 years and this is one of the biggest losses of life that we've seen in a long, long time."
A candlelight vigil will take place at the Mohawk Valley Gateway Overlook at 7 p.m. Monday in Amsterdam, New York.