Lin-Manuel Miranda Addresses 'In The Heights' Colorism Criticism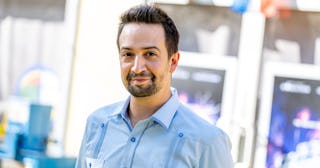 Roy Rochlin/WireImage/Getty
Lin-Manuel Miranda has addressed criticism of his new film, In The Heights, lacking dark-skinned characters
While the film adaptation of In The Heights is receiving rave reviews from fans and critics alike for its portrayal of a largely Dominican community in New York City's Washington Heights neighborhood, the movie has been plagued with online criticism about colorism, — namely, its lack of portrayal of dark-skinned Afro-Latino characters, as well as for shrinking the role of Benny, the show's only dark-skinned character, and for cutting a plot from the original Broadway musical about Benny being disliked by Nina's parents because of his skin tone.
Since the film's release, both director Jon M. Chu and producer Lin-Manuel Miranda, whose music and lyrics provide the soundtrack to the show and the film, have addressed the predominantly light-skinned Latinx cast, responding to online commentary.
In an interview with The Root host and producer Felice León, Chu and a few of the film's leads addressed the accusations. León, who is both Afro-Cuban and a NYC native, asked, "What would you say to folks who say that In the Heights privileges white-passing and light-skinned Latinx people?"
"I think that was something we talked about and I needed to be educated about, of course," Chu said. "In the end, when we were looking at the cast, we tried to get the people that were best for those roles. I think that's a really good conversation to have, something that we should all be talking about," he said — with plenty on Twitter pointing out those conversations should have been had before the movie was made.
Melissa Barrera, who plays Vanessa in the movie, echoed those same sentiments (and unintentionally making the situation worse), telling León, "In the audition process — which was a long audition process — there were a lot of Afro-Latinos there, a lot of darker-skinned people. And I think they were looking for just the right people for the roles, for the person that embodied each character in the fullest extent."
When Barrera and Chu pointed out that there are many dark-skinned dancers in the movie, León noted, "Those are roles that, historically, we've been able to fill. We've been able to be the dancers, we've been able to be in the hair salons and, you know, this and that. But, like, a lead? That's the breakthrough."
"We're not going to get everything right in a movie," said Chu.
After the clip started going viral online, Miranda responded to the criticism on Twitter. "I hear that without sufficient dark-skinned Afro-Latino representation, the work feels extractive of the community we wanted so much to represent with pride and joy. I'm learning from the feedback, I thank you for raising it, and I'm listening."
"Thanks for your honest feedback," he concluded. "I promise to do better in my future projects, and I'm dedicated to the learning and evolving we all have to do to make sure we are honoring our diverse and vibrant community."