Letterman Mocks Lindsay Lohan's Addiction Issues in Resurfaced Interview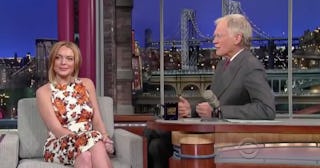 CBS
The resurfaced interview from 2013 is upsetting to watch
David Letterman's 2013 The Late Show interview with Lindsay Lohan has been making the rounds on social media, upsetting a lot of people who are calling out the former talk show host for his horrifying treatment of the actress.
Twitter user @treytaylor shared the clip over the weekend, noting that the interview "is horrifying to watch now." In actuality, it was horrifying to watch then. "Aren't you supposed to be in rehab?" Letterman asks Lohan, who appeared on the show at the time to promote one of her upcoming films. According to Lohan, this was not a line of questioning that was agreed to beforehand, seemingly catching her very off-guard.
Lohan looked uncomfortable, telling Letterman that she would be checking into rehab in May. "What are they rehab-ing? What is on their list? What are they going to work on when you walk through the door?" Letterman asked as the audience laughed.
For her part, Lohan handled the line of questioning with dignity and grace, telling him in part, "No, I think, to be honest, I'm the happiest when I'm working and the healthiest, and I think this an opportunity for me to, you know, focus on what I love in life. And I don't think it's a bad thing. I think it's a blessing…and not a curse."
Letterman continued, asking, "Yeah, I'm sorry. Is it, like, alcohol? Do you drink too much?" to which Lohan replied, "We've discussed this in the past."
Letterman was unrelenting, responding with, "Did we really? When did we discuss — now I'm the one who's having the blackouts…I oughta be at rehab." This, of course, is an irony of sorts given that Letterman has publicly admitted that he struggles with alcohol. He sat down with Jan Pauly in 2015, noting his reason for quitting drinking. "Maybe part of it was the first time I was married I was dead drunk, so I don't drink anymore," Letterman said at the time.
Support for Lohan during the interview is coming after a past Craig Ferguson monologue also recently went viral after Hulu's The New York Times Presents Framing Britney Spears aired. In it, the former Late Late Show host defended Britney Spears and other young actresses who were targeted by comedians and talk show hosts because of their struggles with addiction, mental illness, and their personal lives.
Lohan continued the interview, telling Letterman, "I'm a target. I've always been. And I've put myself in situations… and it wasn't funny and…you grow up and you mature…I'm not trying to deny any situation," adding that she was, "looking forward" to rehab and "taking time for myself."
"You can't make a joke of it, that's so mean," the actress said to Letterman when he wouldn't stop poking fun. "You can't do that, it's my show now," she said, taking his interview notes out of his hand.
Eventually, Lohan got quiet and began crying. Watching a grown man reduce a young woman to tears for entering rehab to deal with addiction issues is appalling. The fact that it's taken this long for people to voice concerns over it is equally so.