These Photos Will Make You Want To Pack Up Your Family And Move To A Farm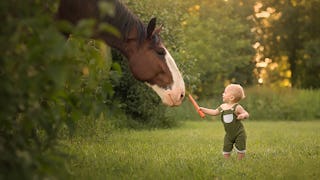 Image via Danielle Awwad
Danielle Awwad and her three kids are living their best life on a Michigan farm.
A mom of three is documenting her kids growing up on a farm, and the photos will make you want to quit city life for good. Danielle Awwad and husband Stephen live on a farm in Marshall, Michigan with their three youngsters: Allie, 5, SJ, 3, and Jake, 2. Prepare yourself, because you're about to be super jealous of their picturesque existence.
Watering plants, catching frogs, and chasing chickens might not seem like the most peaceful activities, but Awwad's photos have us convinced that country living is worth a shot. The mom and photographer chronicles her family on Instagram, where she shares snippets of their farm life.
"It is rare you will find them indoors during the spring, summer, and fall," Awwad told Babble. The couple limits their kids to just 30 minutes of screen time each day. The rest of the time they're outside exploring and playing.
All that time away from modern entertainment has helped her kids grow and learn. "Their imaginations are unlike any I have ever seen," Awwad explained. "They can pick up a stick and suddenly, in their minds, they are on a boat trying to defeat Captain Hook."
And it sounds like the setup is going great for the parents, too. "I feel that in today's world it is easy to be distracted from your present life," Awwad said. "Living in the country cuts out so many of those distractions and allows my husband and I to be present in the moment with our children."
Like most parents, though, Awwad and her husband have their own set of parenting fears to handle. "I feel that growing up on a farm can lead to being sheltered and that, if not discussed, as they get older they could face challenges as they venture out in the world on their own," she said. They expose their young ones to different environments via travel so the kids have a diverse set of experiences.
And like most moms, this one is just happy to have healthy kids and time to spend with them, which wasn't always a given for the Awwad family. Three-year-old SJ has undergone three open heart surgeries and one gastrointestinal surgery, which requires a ton of time at hospitals. "As we pull down our extremely long driveway I always begin to get very emotional because I feel so blessed and grateful we made it home again and are still a family of five," the mom shared. "We pull up to the house and are greeted with our other children who are overjoyed to see their brother. Then life begins to settle back into what is our normal."
Their normal is clearly incredibly special. But if you can't run off and buy a farm, Awwad has some practical tips for families wanting to reconnect with a slower pace.
"Explore the outdoors together as a family. Lay with your children in the grass, be excited that you are outside," she said. "When you are excited they become excited. The more you do these things the more their love will grow."
This article was originally published on