This Little Girl Wins The Internet With Her School Picture Day Outfit Choice
by Megan Zander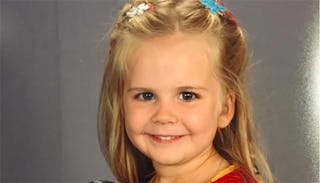 Three-year-old girl dresses as Supergirl for school picture day
Usually school photos are a waste of money. As parents we buy them out of a sense of obligation or as potential embarrassment fodder to show our kids' dates when they're older, but the pictures typically take up residence in a drawer, never to be seen again.
Unless you're three-year-old Kaylieann Steinbach. Because Kaylieann took her school photo dressed as Supergirl and the results are fantastic.
Her dad, Austin Steinbach, shared the photo on Reddit, where it quickly drew attention for being both adorable and awesome. We particularly love how she's the one holding Superman as though she's going to keep him safe instead of the other way around.
Steinbach admits he may have inspired his daughter's love of superhero fashion. "Since she before she could walk I may or may not have dressed her up in superhero clothes for as long as I could remember," he told Scary Mommy. "Her mom has always loved it too! But I'm the resident nerd between us."
Last month he and Kaylieann attended the San Francisco Comic Con, with Kaylieann dressed up as Supergirl, naturally. "[She's] refused to take off her costume since (eventually it was replaced with a Spider-Man one so I could wash the Supergirl)," Steinbach told Babble.
"On picture day at school she was given the choice of outfits, none of which were Supergirl. She walked up, looked over each of her choices, turned and said 'POOTERGIRL!' and well … I couldn't argue with that answer," said Steinbach.
As for the fact that Kaylieann's Superman doll (or Pooterman, as she calls him) made the cut for the photo, Steinbach wasn't at all surprised. "She got her life sized Superman about six months ago and he hasn't left her side since! I had to get a smaller version for her so she could have much more reasonable size Pooterman to take with her everywhere but she somehow still sneaks the big man with her places," he said. "To say the Superman doll is her favorite would be an understatement. The world has ended many times due to her not knowing where he is. She even gets have him sleep with her and wouldn't have it any other way."
This is one school picture that's absolutely getting framed for the mantle.
This article was originally published on