The First Look At ABC's 'Little Mermaid Live' Is Finally Here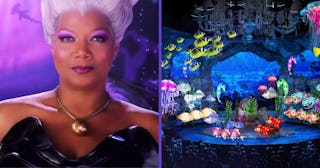 ABC/Youtube and ABC
We're still almost a month away from getting to watch The Little Mermaid Live on ABC, but until then, this first look at the cast can hold us over
Fans of The Little Mermaid are really having a great couple of years. Disney is currently casting its live action remake of the classic animated film, and we absolutely can't wait to see Halle Bailey as an Ariel for the modern age. While that version is sure to be the standard by which all future Little Mermaids are measured, we have a while to wait before we'll get to see that Disney magic. Production is set to start next April, which means the earliest we can expect a release date would be toward the end of next year. Ugh.
Instead of wearing out our old VHS copies of the original, though, there's an alternative: ABC is producing a live TV musical event of The Little Mermaid, and it's going to air in just a few weeks! And if you need your fix right this minute, well, you're in luck once again. The first look trailer for the live show just dropped, and it gives us a chance to see this ultra-talented cast all in character.
The promo is nostalgia-inducing for sure, with looks at all the important cast members over the sound of Ariel's hauntingly beautiful voice singing for Ursula. There are also a few very short clips of some iconic imagery from under the sea, including Ariel doing her Instagram-worthy hair flip as she emerges from under the water.
There's also a sneak peek of Ariel's grotto, of course.
In ABC's live version, Ariel will be played by Auli'i Cravalho, who is taking on her second major Disney character role after lending her voice to Moana in that Disney film. You know she's got the pipes to nail this role, because you've had "How Far I'll Go" stuck in your head as often as we have.
She's joined onstage by Queen Latifah taing on the role of the villainous octopus Ursula.
Shaggy will play Ariel's lobster sidekick Sebastian, and while we're not quite sure how that's going to work in a live stage show, we're excited to see it go down.
John Stamos will be on the stage as the scheming Chef Louis.
And Graham Phillips, a certified hottie of Riverdale and The Good Wife fame, will be our Prince Eric.
This is ABC's second ever musical adaptation after it produced Dirty Dancing in 2017. But Dirty Dancing wasn't live, and The Little Mermaid will be, which adds some excitement to the event. Mark your calendars, because this show premieres soon, on Nov. 5.
This article was originally published on