The First Trailer For 'Little Women' Is Finally Here And It's Perfect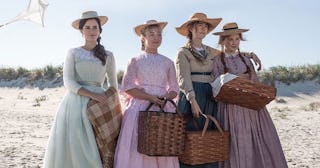 Sony Pictures Entertainment
This movie will make you wish you were part of the March sister dynasty, too
The first look at the latest adaptation of Louis May Alcott's beloved book, Little Women, is finally here and it's as lovely and spot-on as any fan of the book could hope it would be. Director Greta Gerwig, known for Lady Bird, assembled the perfect cast to make this story come to life perfectly once again.
It's hard to go wrong when you've got Emma Watson, Saoirse Ronan, Timothée Chalamet, Laura Dern, and the Meryl Streep are all starring in the new adaption of Louisa May Alcott's classic novel.
The 1869 novel of the same name surrounds a family of sisters coming of age in post-Civil War America at home with their mother, Marmie, as their father is still away amid the war.
Eliza Scanlan, best known as the murderous sister from HBO's Sharp Objects stars as Beth, with Midsommar's Florence Pugh as Amy. Emma Watson plays the oldest March sister, Meg, and Ronan plays Jo. Meryl Streep stars as the wealthy and persnickety Aunt March, and Laura Dern plays Marmie. Chalamet is, of course, the perfect Laurie.
Last fall, the first photos from on-set were released, showing the March sisters in all their glowing glory.
Little Women has played a formative role in the book-loving lives of young girls for the past century and a half — not an easy feat, but a true testament to the talent of Alcott and her writing. This version of the movie was filmed in Massachusetts, where Alcott grew up with her own family, staying true to the book's cozy and picturesque roots.
"This feels like an autobiography," Gerwig, who also penned the screen adaptation, tells Vanity Fair about her connection to the novel. "When you live through a book, it almost becomes the landscape of your inner life. … It becomes part of you, in a profound way."
https://www.instagram.com/p/B1HO01kCw5l/
And even if you're still not over the unrequited love of Christian Bale's Laurie and Winona Ryder's Jo in the 1994 adaptation (*slowly raises hand*), Gerwig has a very interesting outlook on Ronan and Chalamet's characters.
"Jo is a girl with a boy's name, Laurie is a boy with a girl's name. In some ways they are each other's twins," she says. "They find each other before they've committed to a gender. It wouldn't be wrong to call Saoirse handsome and Timothée beautiful. Both have a slightly androgynous quality that makes them perfect for these characters."
And then, of course, Laurie has to go and ruin everything by proposing, and he and Jo end up taking very different romantic paths.
The new Little Women arrives in theaters — when else?– Christmas Day this year. What a perfect release date for the perfect coming-of-age classic.