Parenting At The Center Of The Epicenter Of The Pandemic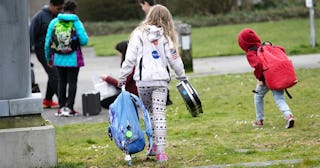 Students leave the Thurgood Marshal Elementary school after the Seattle Public School system was abruptly closed due to coronavirus fears on March 11, 2020 in Seattle, Washington. John Moore/Getty
I live with my husband and two elementary-aged children in King County Washington, the epicenter of the COVID-19 outbreak in the United States. As of March 18th, 562 cases of COVID-19 have been reported in our county, including 56 deaths. 35 of those deaths were residents at the Life Care Center of Kirkland Washington, which is less than five miles from my home.
As a person who has watched I Am Legend, Contagion and World War Z, I wouldn't say that I was excited that to be living at ground zero of a deadly virus attack. I'm just saying that if Will Smith, Brad Pitt or Matt Damon show up, I am willing to help them fight off any zombie-like victims of this disease that will be roaming the streets of my city.
Like in the movies, COVID-19 barely registered with most residents when we first heard about it in February. While most people in our area know that Washington state is a major gateway for trade with China, not many people realize that one in three jobs in Washington are tied to international trade. So when we learned about people dying of a virus in China, we were sad for them, hardly able at that point to imagine how being in that situation must feel — but still, it seemed so far away.
Like all good killer-virus movies, the buildup to the outbreak went almost entirely unnoticed. No one was very concerned when, on January 20th, health officials reported the first occurrence of COVID-19 in the neighboring Snohomish county. That guy had actually been to Wuhan Province, and by the time anyone heard about him, he had already been quarantined. Clearly this was a solved problem: The man is quarantined, officials are handling it. Nothing to worry about.
Later, when the high school closed for a day because a teacher knew someone who knew someone that went to China, a lot of people rolled their eyes. The teacher didn't have the cold; a teacher knew someone who had a cold. It was hard to take that kind of "threat" seriously. Just dramatic government officials using unnecessary caution. Nothing to worry about. I am sure there was a mild-mannered epidemiologist and his assistant banging on doors screaming about how everyone was in danger. Oh, if we had only listened.
COVID-19 continued as only a minor point of interest for people until the local hospital reported the first death on February 29th. Since then, things have escalated quickly. Only a week after that announcement, all the schools within our district closed until further notice. The county manager asked businesses to allow employees to work from home if possible. The grocery stores have been cleared of hand sanitizers, and disinfectant. Weirdly, grocery stores are also completely out of bottled water, as if we might lose access to indoor plumbing. Apparently I am not the only one in the area that watches too many movies.
Fortunately, information on COVID-19 is everywhere: schools, libraries, churches. My bank is even handing out information. The schools did a particularly wonderful job of teaching kids about the virus, without freaking any of them out. "The virus only affects old people and babies," My six-year-old son informed me on Monday, "Really old people. Like people in their forties."
Most people are concerned, but not panicked. We exchange alternatives to "Happy Birthday" for counting out the twenty seconds recommended for hand washing. There is noticeably less street traffic. My neighbor cancelled the birthday party for their child out of caution. My husband coughed on the bus and five heads whipped around as though he had pulled a knife.
What most movies get wrong is how quiet — almost boring — the whole thing is. People aren't fleeing the city causing giant traffic jams. There are no helicopters overhead, or people bursting into our homes wearing hazmat suits. For the majority of the community, the most difficult part of the epidemic is finding childcare for the kids. I'm home in my jammies, drinking tea, and watching for updates to ping up on the phone.
Also left out of the killer-virus movies is how compassionate and helpful everyone is. Within hours of the superintendent canceling school, ladies from the community formed a Facebook group to coordinate child care resources for people in need. Churches and neighbors brought treats and lunches to the emotionally-drained staff at Life Care in Kirkland. Tech guys are offering help getting families set up with the e-learning plan the school initiated. One person is giving away refurbished computers so that kids can complete their school work at home.
The major difference, of course, between my town and the movies, is that COVID-19 is affecting real people. There are real doctors who are in a desperate race to stop the spread of this disease. Real people will struggle to feed their families and keep their jobs because they need to stay home from work. Real people are mourning the loss of those who have died from this flu. When I think about that, it's not anything like an exciting sci-fi thriller. It's tragic, and scary.
Unfortunately, our president fails to make the distinction between fact and fiction. During a March 4th interview on Fox News, Trump suggested that the WHO and other health organizations were exaggerating the seriousness of COVID-19. While Trump may think that the coronavirus warnings are mostly fiction, I want to assure the people of this country that COVID-19 is real. We all need to learn what we can and take the warnings from officials very seriously. This isn't Hollywood, friends.
PS- Matt Damon, Will Smith and Brad Pitt: If you need some real-life experience, you know where to find us.
Information about COVID-19 is rapidly changing, and Scary Mommy is committed to providing the most recent data in our coverage. With news being updated so frequently, some of the information in this story may have changed after publication. For this reason, we are encouraging readers to use online resources from local public health departments, the Centers for Disease Control, and the World Health Organization to remain as informed as possible.
This article was originally published on