Lizzo's Billboard Acceptance Speech Was All About Her Power (And Yours)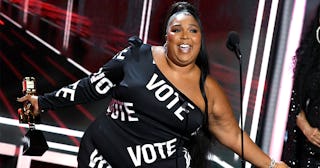 Kevin Winter/BBMA2020/Getty
"When people try to suppress something, it's normally because that thing holds power. They're afraid of your power." -Lizzo, 2020
When Lizzo took the stage at this year's Billboard Music Awards, she clearly wanted to make a statement. Part of that statement was literally written all over her: Her dress was emblazoned all over with the word "vote."
RELATED: How To Achieve Self-Acceptance — And 17 Quotes To Help You Get There
But if you know Lizzo, you know she had a message she wanted to bring to the people watching the show at home. And so, when she won the award for Top Song Sales Artist and headed onstage to give an acceptance speech, you knew it was time to quiet down and listen up, because the queen was speaking.
After thanking Billboard, her label, and her fans, Lizzo got right down to it.
"I just want to say, I've been thinking a lot about suppression, and the voices that refused to be suppressed," she said. "And I wonder, would I be standing here right now if it weren't for the big, black women who refused to have their voices be suppressed?"
It's hard to imagine someone as strong as Lizzo being suppressed, but the fact is that the world suppresses all kinds of people — especially those who are women, those who are Black, and those who exist in bodies that don't fit perfect media standards. For anyone who fits any of those descriptions, the "Truth Hurts" singer had a little bit of advice.
"I just want to say right now, if you're at home watching and you're thinking about changing yourself to feel worthy, this is your sign to remain true to who you are," she said.
Lizzo continued, "Let me tell you all something: When people try to suppress something, it's normally because that thing holds power. They're afraid of your power. There's power in who you are. There's power in your voice. So whether it's through music, protest, or your right to vote, use your power. Use your voice, and refuse to be suppressed."
Last night was far from the first plea Lizzo has made to America to use their voice and get to the polls. Her Instagram lately has been one big VOTE push and we're extremely here for it.
If that's not the message we need right now, I don't know what is. We're just three weeks away from the most important election of our lifetime, and you bet the powers that be will be hard at work all the way through November 3 to suppress voices that might take their power away. But like Lizzo said, they do that because the power belongs to us, not them. We can make the world better, and all we have to do is refuse to be suppressed and vote.
This article was originally published on