Lizzo Is Literally Dressed As A Chocolate Bar At The 2020 Brit Awards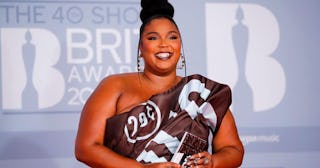 TOLGA AKMEN/Getty
Lizzo dressed like a literal chocolate bar at the 2020 Brit Awards
Lizzo is quickly solidifying her place atop the throne as daring fashionista in pop music. After thrilling everyone with her teeny tiny purse at the 2019 AMAs and walking into the 2020 Grammy Awards looking like an angel, Lizzo did it again when she showed up to the 2020 Brit Awards on February 18, 2020 in a custom Moschino dress that looked like a Hershey's bar.
"The best kind of chocolate," Lizzo captioned a picture of her red carpet look on Instagram. The dress was designed in 2014 by Jeremy Scott for Moschino, who is the same designer that put Katy Perry in a literal hamburger costume at the 2019 Met Gala.
https://www.instagram.com/p/B8t89aohGj-/
The dress looks even better in action.
And because a Lizzo *lewk* would not be complete without a perfect accessory, Lizzo walked the carpet with a diamond-encrusted Judith Leiber clutch made to look like a chocolate bar. The clutch contains the phrase "100%" presumable for "100% chocolate" and also "100% that bitch."
https://www.instagram.com/p/B8t7vOKBVqB/
She is — quite literally — a snack.
Lizzo's stylist Marko Monroe calls the singer "our generation's" Madonna and says that Lizzo's fashion statements are making a greater pop culture impact because of her body positivity.
"We're not used to seeing someone her body shape carry clothes with such confidence. She's confident, and style is about confidence," Monroe told Billboard. "It doesn't really matter what you wear as long as you have confidence in it. A lot of times we have a certain idea of what her body shape should fit into, but styling doesn't have to be so by the rules. At the end of the day, she just wants to feel good and sexy."
Lizzo's approach to fashion is a bit more blunt.
"I am a bad bitch that takes risks and wears whatever she wants," Lizzo told The Hollywood Reporter, while adding that "turning jokes into a red-carpet look is what we do best… My personality, you can see it. I don't even have to say nothing. I walk into a room and you know what's up."
As for the Brit Awards, Lizzo is nominated for Best International Female Solo Artist and is up against Ariana Grande, Billie Eilish, Camila Cabello, and Lana Del Rey. The "Truth Hurts" singer is also set to perform onstage at the star-studded affair.