Lizzo's On The Cover Of British Vogue And We Can't Even Take It
by Julie Scagell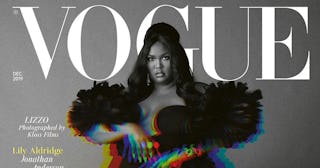 Vogue
Lizzo on the cover of Vogue is everything
If you love every single thing about Lizzo, you're going to be ecstatic over this news — the "Truth Hurts" singer is now gracing the cover of Vogue.
"Ladies and gentlemen, the cover of Vogue. On newsstands everywhere. Thank you," she wrote on Instagram next to the cover, which is everything you'd think it would be only better because it's Lizzo.
The singer opened up during the interview, talking about her whirlwind past couple of years and how she feels this is the exact right time for her to reach her level of success. "I think if I was 21 right now, I would not be able to maintain this lifestyle without having major anxiety and panic attacks," she said. "But thank God, my journey is all about self-care and finding that love for yourself and nurturing yourself. Because that's what artists need more than anything."
She also talked about the importance of the cover, not just for her but for all the girls growing up who can't see themselves in the pages of most magazines. "I would watch things on television and I would look at magazines and I would not see myself," she said. "When you don't see yourself, you start to think something's wrong with you. Then you want to look like those things and when you realize it's a physical impossibility, you start to think, 'What the fuck is wrong with me?' I think that took a greater toll on me, psychologically, growing up than what anyone could have said to me."
The singer/songwriter has been outspoken about the importance of loving ourselves and how having real role models — not airbrushed, surgically-enhanced celebrities who usually grace the covers of woman's magazines. "When people look at my body and be like, 'Oh my God, she's so brave,' it's like, 'No, I'm not,'" Lizzo told Glamour. "I'm just fine. I'm just me. I'm just sexy. If you saw Anne Hathaway in a bikini on a billboard, you wouldn't call her brave. I just think there's a double standard when it comes to women." Amen to that.
Though many refer to her as a driver behind the body-positivity movement, she cautions against the title, noting a lot of people behind it do so for their own gain. "We weren't selling anything in the beginning. We were just selling ourselves and selling ourselves on the idea – selling ourselves on ourselves, you know?"
"I'm not trying to sell you me," she says. "I'm trying to sell you, you," she says. We literally couldn't love her more for it.