Lizzo Calls Chris Brown Her 'Favorite Person,' World Gags
by Erica Gerald Mason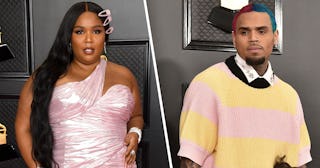 Kevin Mazur/David Crotty/Patrick McMullanGetty
The singer is getting a lot of reverb for calling Chris Brown her "favorite" person
Lizzo, Lizzo, Lizzo. It was just last week that the world gave you props for amplifying the very problematic history of New York's Central Park. That was then. This is now. Lizzo just paid Chris Brown a huge compliment and fans on Twitter threw up in their mouths.
In a video, the Truth Hurts rapper asks the singer to pose with her for a photo. "Can I get a picture with you? You're my favorite person in the whole f*cking world!" she tells Brown in the clip.
For a refresher, Brown has been the recipient of assault and battery charges against women. The rapper was arrested on suspicion of assault with a deadly weapon in 2016 and has had multiple restraining orders filed against him by his ex-girlfriends, including Rihanna. Then in 2019, he was arrested in Paris on rape and drug charges.
Aware of Brown's criminal history, Lizzo's followers blinked twice, furrowed their brows, then took to Twitter to respond.
"Taking a picture with Chris Brown in 2021 Lizzo…," one tweet read.
Another Twitter fan decided to use the Real Housewives Of Atlanta for their own reaction.
One person saw the clip and decided to enter the chat.
"lizzo said in 1080p that chris brown is her favorite person in the world so i can say with my chest that rumors is trash," the tweet reads.
Another posted a laughing gif that leaves no doubt as to their thoughts about the situation.
Another fan caught the digital vapors when they heard the news.
The video ruined the day for one Lizzo fan.
Some fans didn't see the big deal. "A lot of your faves collabed with Chris brown but Lizzo is where y'all draw the line? Get real."
"People being outraged at Lizzo's love for Chris Brown while so many other artists be out here supporting/collaborating with him with no backlash, makes zero sense," one Lizzo fan tweeted. "Don't make me go down the list of people…Just say you don't like her."
Another posted a 'lil truth nugget. "The gag is Chris Brown should've been the one fangirling over Lizzo and not the only way around."
Lizzo has yet to respond.