Lizzo Schools Photog Who Misgendered Demi Lovato Scary Mommy Lizzo Schools Photog Who Misgendered Demi Lovato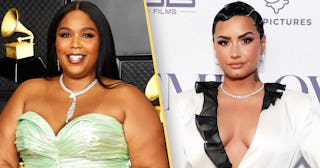 Kevin Mazur/Rich Fury/Getty
Lizzo isn't here for misgendering Demi Lovato
You probably don't need another reason to stan Lizzo — there are already so, so many — but I'm going to give you one anyway. When Queen Lizzo was asked by the paparazzi recently if she had any plans to do a collab with Demi Lovato, Lizzo had one big issue with the question: the photog kept referring to Lovato as "her," though we now know that Lovato identifies as non-binary and uses they/them pronouns.
"Demi Lovato at Jazz Fest, too… will you be performing with her?" the photog asks, and you can see Lizzo clock the mistake right away. "We don't got a song together," she answers (which begs the question, WHY NOT? The two singers are set to co-headline the New Orleans Heritage and Jazz Festival in October, which does feel like the perfect opportunity for them to bless the world with a duet).
The photographer then asks of Lovato, "Should she reach out?" Lizzo responds emphatically with "THEY," which goes right over the photog's head.
"Have her team contact your team?" he asks, still not getting it.
"THEIR team," Lizzo shoots back with an amazing hair flip. "Demi goes by 'they.'" The photog finally catches on and apologizes (hopefully sincerely, but it's hard to tell), thanking her for the correction
The interaction lasted barely 30 seconds, but it's such an amazing yet simple show of support for Lovato. Respecting someone's pronouns shouldn't be hard — and yet non-binary and trans people deal with being misgendered all the time, both accidentally and on purpose.
Lovato took notice of the video, reposting it on their Instagram with a message for Lizzo. "You fucking queen I love you" they wrote. "Thank you." Which just makes me want a joint song from these two even more, and now I also think they should star in some sort of buddy comedy together. Because come on — they are both just so freaking cool. Lizzo then reposted Demi's message, tacking on a heart emoji, and it just does not get any cuter.
It's only been about two and a half months since Lovato announced their updated pronounce preferences, so we probably aren't done hearing them be misgendered, unfortunately. But with allies like Lizzo ready to correct the record, hopefully those incidents will get fewer and further between for Lovato.
This article was originally published on