Lizzo's Tiny Bag AMA Look Is A Definite Mood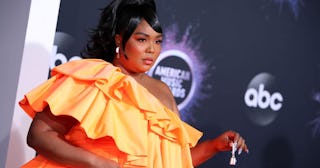 Rich Fury/ Getty
Lizzo rocked a tiny dress and even tinier Valentino bag on the Red Carpet
The year 2019 has put us through some things. Though a lot of those things have been negative, there's been a bright light throughout — and that light belongs to Lizzo. The singer-songwriter, rapper, and all-around badass has taken the music world by storm and at tonight's American Music Awards, she owned the Red Carpet like the queen she is.
Lizzo rocked a ruffled, one-shouldered coral-colored mini dress paired with neon white Stuart Weitzman sandals and some seriously blingy nails, but it was her teeny-tiny purse that got everyone's attention. "There's only three in the world," Lizzo told viewers of her Valentino purse. When asked what she packed in it for the evening, the "Truth Hurts" singer quipped, "I got tampons in here, a flask of tequila, condoms." If anyone can do it, she can.
It's not just her look that'll have people talking. She's up for three awards tonight: Best new artist, soul/R&B song of the year, and soul/R&B female artist of the year, and will be performing for the first time at the AMA's. She's coming off of eight Grammy nominations earlier this week, so if you're a betting person, I'd put my money on her.
The good people of Twitter were quick to bow down to her look, especially her dollhouse-sized bag:
Lizzo also answered questions from pre-show host, Lauren Jauregui, about how she was feeling about the big night to which the singer replied as only she can: "Feeling good as hell!" she said. She also opened up about her quick rise to fame saying she wouldn't have been ready for it all before now.
"I just want people to feel good," she said of her music. "We all go through 'it,'" she continued. "I'm not going to say the word but…" then mouthed the word "bullshit." She continued: "I just want my music to help people get through the bullshit." She also joked that she's "always been a superstar" when asked how she feels with all the spotlight on her in recent months. Bless.
She told Glamour earlier this year, "When people look at my body and be like, 'Oh my God, she's so brave,' it's like, 'No, I'm not'. "I'm just fine. I'm just me. I'm just sexy. If you saw Anne Hathaway in a bikini on a billboard, you wouldn't call her brave. I just think there's a double standard when it comes to women."
If you've not yet seen Lizzo in action (what are you waiting for, even Cookie Monster is in on the action), tonight's performance will undoubtedly give viewers a show worth tuning in for — even if it's just to watch her own the stage. The American Music Awards will be broadcast live on ABC from the Microsoft Theater in Los Angeles tonight beginning at 8 pm EST so if you have plans, you may want to record this one and stick in your tiny purse for later.
This article was originally published on