Lizzo Brought Rescue Puppies On Stage And We Do Not Deserve Her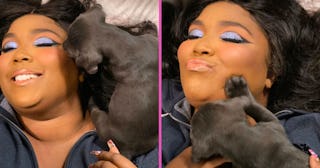 Lizzo/Instagram
Of course, Lizzo managed to get them all adopted
If you're thinking to yourself, "the only thing that could top watching Lizzo in concert is if she brought a bunch of adorable, adoptable puppies on stage with her," today is your lucky day. The "Truth Hurts" signer did just that, delighting fans and dog-lovers across the land.
On Wednesday, Lizzo performed in Washington D.C. and was visited by a gaggle of canines from Wolf Trap Animal Rescue. The rescue, located in Merrifield, VA, brought the puppies backstage for the singer and her crew to snuggle to their heart's content but she did the organization one better, bringing them out on stage with her and asking the audience to consider adopting one of the pups themselves.
"From rags to riches! Our rescue team and these puppies were lucky enough to meet Lizzo and provide her and her team puppy therapy last night at The Anthem!" Wolf Trap wrote on their Facebook page. "Thank you so much to all the staff, crew and team members for making last night unforgettable!"
According to their Facebook page, "Wolf Trap Animal Rescue's primary mission is to support a life-saving foster, transport, and adoption program which was developed in order to rescue young animals in danger of being euthanized in Mississippi from overpopulation" and Lizzo certainly did her part to help get their message out.
Obviously, fans (so, everyone) could not get over the sight of Lizzo and puppies on the same stage:
"When I heard some of them don't have homes yet I felt so compelled to bring them on stage and show them off because they deserve to have a home." Alrighty then, Mississippi or bust.
"If you're interested in supporting Wolf Trap in our continuing rescue efforts, the mom of these puppies is heartworm positive and requires costly treatments," Wolf Trap continued. "Through this event, we were able to find all these puppies AMAZING homes!" Of course, she got them all adopted. Of course, she did.
Obviously, there are so many puppies who still need to be adopted into good homes across the country. According to ASPCA, approximately 6.5 million companion animals (dogs and cats) enter U.S. animal shelters nationwide every year and of those, approximately 1.5 million shelter animals are euthanized. There is a huge need for loving homes and Lizzo taking time out of her concert to help even a few pups find their forever homes is just the best.
She posted some pics of her and her crew backstage snuggling the pups and another video of her looking sexy AF next to the caption, "Got to cuddle some puppies today," which honestly may get all of the available puppies in the world adopted.
"If you are unable to adopt but would still like to help, please consider donating, fostering or volunteering!" Wolf Trap concluded. If you can't adopt, volunteering is an awesome way to help out and get your snuggle on (while blasting your favorite Lizzo song in your earbuds, obviously).
This article was originally published on