'Llama, Llama' Series Is Coming To Netflix Starring Jennifer Garner As Mama Llama
by Cassandra Stone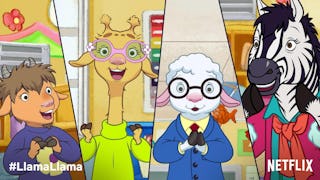 Image via Netflix
The much-loved stories about everyone's favorite llama are coming to Netflix
If you've spent many nights reading your children a story before bedtime, chances are you've spent some time with a family of llamas at some point. Because the entire series, which began with the incomparable Llama Llama Red Pajama, has become a staple in many households during the last decade.
Now thanks to Netflix, families everywhere can enjoy the series anytime, on any TV, iPad, or Kindle, thanks to their new series: Llama, Llama.
Premiering Friday, January 26, Llama Llama will feature 15 half-hour episodes of our favorite little llama and his adventures with family and friends. Based entirely on the beloved book series by Anna Dewdney, the Llama Llama show also features Jennifer Garner as Mama Llama.
The Llama Llama television show is aimed at preschool-aged children, and captures everything from everyday childhood experiences to full-on adventures. And, of course, the special relationship between Llama, his beloved Mama, and the rest of his family and friends.
"We are extremely proud to deliver a series that we truly believe honors Anna Dewdney's legacy," stated Andy Heyward, Chairman and CEO of the production company, Genius Brands.
And what a legacy it is. Dewdney sadly passed away in September 2016 after battling brain cancer. In lieu of a funeral, all Dewdney requested was that Llama Llama fans to pick up a book and "read to a child."
Books have always been the perfect escape — and every child needs an escape every now and then, even if it's just to stretch the boundaries of their beautiful imaginations. Curling up in my bed and listening to my dad read books to me (and also tell some, uh, colorful stories of his own) were the moments I felt safest.
Before I became a mom, I was an aunt and a babysitter for many, many years. These books were some of my absolute favorites to read for many reasons. They rhyme in the most cadenced way for optimal out-loud reading, they're the perfect length to hold with a toddler/young child's attention span, and they teach each child lessons while validating and alleviating their own experiences and concerns.
The Llama Llama Netflix series is sure to be a hit because these books mean so much to so many children and their families. More importantly, who doesn't love Jennifer Garner? We already know she's an expert at reading kids' books, so it's safe to assume she's just as endearing as acting them out as the beloved and beleaguered Mama Llama.
All 15 episodes of Llama Llama will be available for streaming on Netflix on January 26.
This article was originally published on