Compilation Of Conservative Broadcasters Reading The Same 'Fake News' Script Is Chilling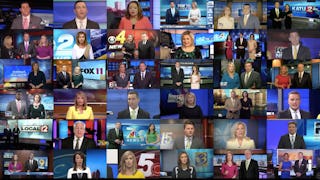 Image via Deadspin
Try not to get too creeped out as hoards of local news anchors recite a forced script distributed by Sinclair Broadcast Group
Everyone seems up in arms about "fake news" these days, from media watchdogs who warn the public about private right-leaning websites masquerading as news organizations to President Donald Trump accusing major outlets of bias and lies each time they release unfavorable reports.
But as everyone is pointing fingers and shouting "fake news!" the largest broadcaster in the nation, Sinclair Broadcast Group, sent out a mandatory script for all of their local news stations to read that reeked of propaganda and a pro-Trump agenda. The story, which was initially reported by CNN's Brian Stelter, went viral over the weekend after Deadspin compiled a video of the disturbing script as it was read on the air across the country.
The script sounds almost innocuous at first, but hearing it parroted by dozens of news anchors reveals the insidiousness of the message. It reads in part:
"We're concerned about the troubling trend of irresponsible, one-sided news stories plaguing our country. The sharing of biased and false news has become all too common on social media. More alarming, some media outlets publish these same fake stories… stories that just aren't true, without checking facts first. Unfortunately, some members of the media use their platforms to push their own personal bias and agenda to control 'exactly what people think'…This is extremely dangerous to a democracy."
According to The New York Times, it's somewhat normal for national broadcasters to send "must-run" video segments to affiliates, but very rare for them to read must-read scripts, especially of such a biased, media-bashing nature. A follow-up story, also by CNN's Stelter, reported that many Sinclair journalists were uncomfortable reading the script, while the statement was a "source of dismay" in multiple newsrooms as broadcasters attempted to balance their journalistic morals with their duties as Sinclair employees.
"I felt like a POW recording a message," one of the anchors told Stelter.
Stelter also uncovered documentation in which anchors were instructed to wear non-partisan colors, along with the instructions, "Please produce the attached scripts exactly as they are written."
"Talent should dress in jewel tones — however they should not look political in their dress or attire. Avoid total red, blue and purples dresses and suits. Avoid totally red, blue and purple ties, the goal is to look apolitical, neutral, nonpartisan yet professional. Black or charcoal suits for men…females should wear yellow, gold, magenta, cyan, but avoid red, blue or purple."
Trump weighed in on the broadcast this morning via Twitter, declaring, "So funny to watch Fake News Networks, among the most dishonest groups of people I have ever dealt with, criticize Sinclair Broadcasting for being biased. Sinclair is far superior to CNN and even more Fake NBC, which is a total joke."
As Trump criticized news outlets for reporting on the forced script reading on Monday morning, journalists spoke up to defend the news anchors who read the script instead of fighting back. Notably, Los Angeles Times national correspondent Matt Pearce took to Twitter to explain that many Sinclair employees are under strict contracts and could be made to pay back part of their salary–or be in danger of getting sued–if they quit early.
Pearce also explained that many of the reporters may not have originally been hired to a Sinclair station, as the broadcasting corporation, which currently owns almost 200 stations, is quickly expanding. In addition, Sinclair's broadcasters and anchors aren't unionized.
Sinclair Broadcasting Group has not responded to this weekend's criticism yet–but their statement has certainly started a national conversation about fake news. It's just probably very far from the one they were hoping for.
This article was originally published on