Wedding & Birthday Party Ends With 50+ People Testing Positive For COVID
by Madison Vanderberg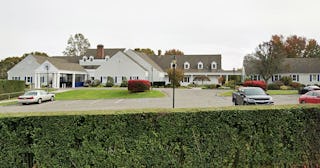 Google Maps
Two "super spreader" events in Long Island end in 50+ COVID cases
More than 50 people have tested positive and 300 people have had to quarantine after 91 people attended a wedding and another 50 people went to a birthday party in Long Island this month. The "super spreader" events have been condemned by city officials and the wedding venue was slapped with a large fine, but it's a little too late because 56 people have now tested positive for COVID-19 due to the two events.
The wedding was held at the North Fork Country Club in Cutchogue, Long Island and while it's unclear if the reception was indoors or outside or if mask wearing was enforced or not (I'm gonna go out on a limb and say, it wasn't), Suffolk County Executive Steven Bellone shared in a news conference on Wednesday (via NBC News) that of the 91 attendees, 30 people tested positive for COVID, three of whom were employees or vendors working the wedding, and 160 people that came in contact with the infected bunch now have to quarantine as a result.
Not sure why the bride and groom saw New York's ban on gatherings of more than 50 people and thought, nah, we'll invite 91 people, because now a shit ton of people have COVID. But like, congratulations on your wedding, I guess? Also, the North Fork Country Club was fined $17,000 for trying to sneak a wedding under city officials noses.
The birthday party, on the other hand, only had 50 attendees, meaning the event was "legal" and STILL people got sick, which begs the question, even if you're legally allowed to do something, maybe you should ask yourself, but should I do it? 50 people attended the private "adult birthday party" in Bellport, Long Island and half the guests came down with COVID-19. Per city officials, 26 people tested positive for the coronavirus and 132 were forced to quarantine.
Now, thanks to these two events, six school districts in Suffolk County have been affected by the positive cases and "associated risk of exposure." If this behavior and/or "super spreader" events continue, city officials warns that schools may close again.
Two weeks ago, another Long Island venue was slapped with a $12,000 fine when they hosted a Sweet Sixteen party that ended with 37 people (mostly kids) testing positive for the coronavirus.
"This kind of blatant disregard for the well being of others is not only extremely disappointing, it will not be tolerated," Bellone stated. "These kinds of superspreader events are a threat to our public health and to our continued economic recovery. If you violate the rules, you'll be caught and held responsible."
Hear me out…what if you didn't invite nearly 100 people to a party during a pandemic??