Looks Like Lori Loughlin Could Serve Some Time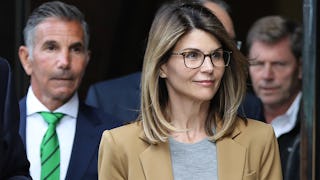 Image via Pat Greenhouse/Boston Globe/Getty Images
Actress Lori Loughlin and the other indicted parents could now face years in prison if they're found guilty of cheating their kids' way into top tier colleges
Things continue to be not so great for actress Lori Loughlin, ever since she and her husband were caught allegedly bribing their daughters' way into the University of Southern California to the tune of $500,000. Most recently, the Full House star, husband Mossimo Giannulli, and 14 other parents were indicted by a grand jury in Boston for conspiracy to commit mail fraud and money laundering in connection with the college admissions scandal that hit the news last month.
That's significant because these new charges come with maximums of 20 years in prison – and pretty much secure Aunt Becky a jail cell for a significant amount of time if she's found guilty.
Next, she will be arraigned.
All of this started back in March, when Loughlin, Giannulli, and about 50 other people were charged by the FBI in a nationwide college admissions scandal. They allegedly conspired with William "Rick" Singer to get their two kids into college, bribing various people with $500,000, which was disguised as a donation to the Key Worldwide Foundation. They're also accused of falsifying test scores and lying about their kids' athletic achievements – both daughters were "recruited" by the crew team, though neither ever rowed.
This latest news suggests a couple of things. First of all, the prosecutors are extremely serious about the case. Secondly, it's going to be very difficult for Loughlin and others to escape jail time if found guilty, even if they go with a plea deal.
According to the Department of Justice, "the charge of conspiracy to commit mail and wire fraud and honest services mail and wire fraud provides for a maximum sentence of 20 years in prison, three years of supervised release, and a fine of $250,000 or twice the gross gain or loss, whichever is greater. The charge of conspiracy to commit money laundering provides for a maximum sentence of 20 years in prison, three years of supervised release, and a fine of $500,000 or twice the value of the property involved in the money laundering."
People confirms that the prosecution is not going to take it easy on the list of famous and well-off couples.
"They really want to make sure that there isn't this perception that these people are able to skate by because they're rich," a legal source told the magazine. "They want to make sure everyone is equal in the eyes of the law. They know this is a high profile case and they want to make an example of the defendants."
At the same time, TMZ adds that these new charges mean that even plea bargains would come with hefty prison sentences. Mail fraud plus money laundering could mean a plea that involves over four years in prison.
The other high-profile name involved in this scandal, fellow actress Felicity Huffman, copped a plea earlier this week, along with 14 other parents. She admitted guilt and apologized. But even though Huffman wasn't facing a money laundering charge, she could still spend months in prison.
Loughlin's legal woes are also creating career woes. The actress was booted from her Hallmark gig and Netflix dropped her from Fuller House. She's also lost advertising deals.
It's really starting to sound like she shouldn't have allegedly spent six figures breaking the law and trying to cheat the system, all in the name of "helping" her kids.