Add Louis CK To The List Of F*cking Awful Men In Hollywood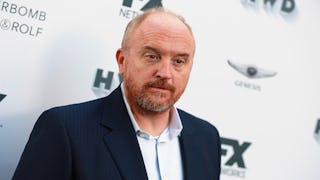 Photo by Rich Fury/Getty Images
NYT breaks story about Louis C.K. masturbating in front of several women
What is it with men trapping women and masturbating in front of them? Can someone please explain this behavior? Because it seems we can add Louis C.K. to the growing club of fucking criminally sexually abusive men in Hollywood.
The New York Times just published a story titled, Louis C.K. Crossed a Line Into Sexual Misconduct, 5 Women Say, which for the record is a very odd headline — considering the story is all about Louis C.K. being a serial masturbator in front of women. Yup, that's right. Five women have come forward with the same stories — and they are Harvey Weinstein-level gross. Masturbating in front of women is not "crossing a line" — it's vaulting over it.
First, the article reports that in 2002 comedians Dana Min Goodman and Julia Wolov had just finished performing at the U.S. Comedy Arts Festival in Aspen, Colorado when Louis C.K. invited them to hang out in his hotel room for a nightcap. "As soon as they sat down in his room, still wrapped in their winter jackets and hats, Louis C.K. asked if he could take out his penis, the women said. They thought it was a joke and laughed it off," reports the NYT. "And then he really did it," Goodman told the Times "He proceeded to take all of his clothes off, and get completely naked, and started masturbating."
"I think the line gets crossed when you take all your clothes off and start masturbating," Wolov said.
What. The. Fuck.
Then this: "In 2003, Abby Schachner called Louis C.K. to invite him to one of her shows, and during the phone conversation, she said, she could hear him masturbating as they spoke. Another comedian, Rebecca Corry, said that while she was appearing with Louis C.K. on a television pilot in 2005, he asked if he could masturbate in front of her. She declined."
C.K.'s publicist told the NYT that he would not be responding to the allegations. But today, the Premiere of C.K.'s new movie "I Love You, Daddy" was abruptly cancelled — as was an appearance on The Late Show With Stephen Colbert.
And it seems this is not news to many. Allegations and rumors of misconduct have been floating around Hollywood since 2012, when Gawker ran a blind item about a famous comedian who forced women to watch him masturbate. In 2015, comedian Jen Kirkman appeared on a podcast and told a story about a "very famous comic." She said, "He's a known perv. And there's a lockdown on talking about him. His guy friends are standing by him, and you cannot say a bad thing about him… And this guy didn't rape me, but he made a certain difficult decision to go on tour with him really hard. Because I knew if I did, I'd be getting more of the same weird treatment I'd been getting from him." In 2016 Roseanne Barr said she'd heard stories about C.K. "locking the door and masturbating in front of women comics and writers."Tig Nogaro has also been vocal about the allegations against him.
Twitter, for one, seemed ready for the story to break.
This pattern of abuse is disgusting. And it's even more infuriating to know that the silencing and intimidation of women is so widespread. Hopefully all of these criminally abusive monsters in Hollywood are afraid. Very afraid. Because brave women are speaking up — and taking them down one by one.