Things To Do in Louisville With Kids
by NIkki Harvey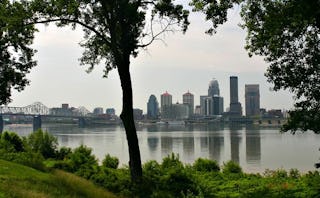 When planning a family vacation, Louisville, Kentucky, may not be the first destination that comes to mind (or the second or even fifth). But, what many people don't know is that Louisville is actually an amazing family-oriented city and there are so many things to see and do in Louisville with kids.
From the zoo to Churchill Downs (home of the Kentucky Derby), lots of fun parks, and places to play and explore, there are so many great things to do in Louisville with kids. Here are our top picks for favorite things to do in Louisville with kids.
Best Places to Stay in Louisville
Well, you're going to need somewhere kid friendly to sleep while in Louisville, and lucky for you there are great options. If you're looking to add to your hotel reward points (free hotel room for another trip w out the kiddos?) stay in downtown Bourbon City. Prefer staying on Whiskey Row? We hear you (can you say late night tacos?). If no hotel is kid-friendly enough for you, and you need your own house or apartment (mini kitchen? kids get their own bedroom?), Airbnb has some of our all-time favorite Louisville accommodations — from cozy downtown condos to historic homes to a Highlands craftsman style home.
How to Get Around Louisville
If you're staying in the downtown Louisville area, no car necessary. This is a walking town. But if you've got places like Kentucky Kingdom on your itinerary (please say you do!?!), you'll be needing a car. Hertz has nearby locations downtown and at the airport.
Best Experiences in Louisville for Kids
In your former life, you probably enjoyed quiet days touring town, but let's be realistic and accept that kids need things to do. Put down their tech devices (and yours) and plan a few special experiences that are unique to Louisville. Everything from a Historic Bourbon Boat Tour to a Beekeeping and Honey Tasting Tour to Cooking Classes at the Cabin can be booked beforehand.
Best Attractions in Louisville for Kids
The Louisville Zoo dinosaur exhibit is really something to see, and an awesome treat for the whole family. Walking through the wooded path, you'll encounter dinosaurs from over 12 species, including the popular Tyrannosaurus Rex. Using animatronics technology, the dinosaurs are eerily life-like as they move and roar which makes it fun for the whole family. Just don't watch "Jurassic Park" with the kids before you go.
Waterfront Park is great for the whole family. It's a beautiful urban park that offers everything from play grounds for kids (including a water park in the summer), biking trails, lawns to sprawl out on, swing gardens for a quiet place to read, an amphitheater, and an amazing view of the river wherever you go. Simply put, it's a peaceful retreat in the hustle and bustle of the busy city. Did we mention the swing garden? Plus, it's free!
Renaissance Fun Park has laser tag, go karts, mini golf and more. If you have kids and you're in Louisville, do yourself a favor and go to the Fun Park. This place never fails to disappoint and by the time you leave your kids will be thoroughly exhausted (win-win!). In addition to the go karts, laser tag, and mini golf, there are video games, food & drink. Trust us, you won't want to leave either.
If you want to go somewhere that you can sit back and relax while your kids run around, have a blast, and get all of their energy out, KaZoing is the place to go! KaZoing offers the largest indoor party room in Kentucky with five huge inflatables. After the kids are all jumped-out they can go into the craft room and create art or into the glamor studio which offers a variety of over 400 dress up options! This place is pure joy.
Historical Attractions in Louisville
Louisville Equestrian Center is a must-see when you're in Louisville. Horses are a huge part of Kentucky's history. Home of Churchill Downs and some of the most famous races of all time, how could they not be?! We highly suggest a visit the Equestrian center for a lesson or two for the whole family. They offer an amazing value and it is very kid-friendly. Fun fact: literally hundreds of artfully painted horse statues can be found in downtown Louisville.
The Slugger Museum is another dose of history for the whole family. This museum is a blast and home to the biggest bat in history, reaching a tall 120 feet. It's a special place to the heart of Louisville and crafts the #1 bat in Major League Baseball. At Louisville Slugger Museum & Factory, experience history-in-the-making as you explore the actual factory where world-famous Louisville Slugger bats are created. After the tour, be sure to check out the batting cages!
Outdoor Activities in Louisville for Kids
Mega Cavern is a great adventure place for kids. Take the tram tour or zipline (yes, zipline!) through part of a 17-mile man-made cavern under Louisville. It's a great tour for all ages whether you want to learn about science and history, or simply want to experience being in a giant man-made cavern. If you are visiting during the holiday season, be sure to check out Lights Under Louisville at the Mega Cavern: The World's Only All Underground Holiday Light Show. Just be sure to bring candy to bribe your kids into being quiet for the tour. My son screamed bloody murder throughout our cavern tour (2 years old at the time) and take my word that the last place you want to be is in an echoing cave of screaming hell.
Kentucky Kingdom is a great day out if rides and water slides are your thing. This 63-acre amusement park includes a number of rides and a water park. They also do special shows (like the Avian Adventure and the Sea Lion Splash) and have a 5D cinema, so those who are little more on the nervous side when it comes to amusement rides
Huber's Family Farm is another must-see. Although Huber's is actually North of Louisville in Indiana, the trip is worth every penny. In fact, you would be doing yourself and every Louisville visitor a disservice if you didn't make a visit to Huber's Farm. The barnyard experience is a blast for the whole family. The activities include a 40-foot barnyard tunnel slide, giant inflatable slide, Billy Goat Walk, Cow train, pony rides, and more. Don't forget to stop in the gift shop and buy some homemade Huber's jam (you'll thank us later).
Other Activities in Louisville for Kids
Kentucky Science Center has something for everyone in the family. This is a very fun hands-on environment with endless exhibits and demonstrations (geared mostly to children 10 & under). It's highly involved environment allows children to play and have fun while teaching them at the same time. There is also a must see IMAX that is a great experience for the whole family. This particular museum is part of the Blue Star Museum program that allows free tickets for military families through the summer.
And if you're in town during the right time, you have to check out Thunder Over Louisville. This is a seasonal event, but it's so awesome that we would go as far to say "don't visit Louisville until it's the week(s) of Thunder Over Louisville." Thunder is an annual kickoff celebration two weeks prior to the Kentucky Derby. In fact, it's so huge that it is known for having the largest firework display in the world since 1990. Festivities throughout the event include hot air balloon races, air shows, boat races, live music, chow wagons, and kid play areas with rock walls, giant bounce houses, face painting, and more. And while you're in town, you might as well stay for the Kentucky Derby too!
Best Things to Pack For a Trip to Louisville
As a mom, it's your responsibility to make sure you all arrive in Louisville with the necessary essentials (as if you needed one more thing to do, of course). And that requires having a sturdy—and stylish—suitcase to start. I'm obsessed with Away luggage because it looks good, yes, but it also holds up well and has enough room for even the biggest over-packer like me. As for what to put inside, I never go anywhere without my favorite sleep mask (a must for when you're sharing a hotel room with kids, trust me) and this travel-friendly skincare kit (just because you're on vacation doesn't mean your nightly routine should be). Another must-have is something to wear for your inevitable horse-riding lesson or equestrian encounters—like a pair of chic Hunter boots, which are both waterproof and comfortable to wear all day. And speaking of horses, even if it's not Kentucky Derby season, you can't go wrong with a pretty sun hat when you're exploring the deep South. Psst: Don't forget this popular instant camera for capturing the entire trip—you'll love having the memories to look back on when you're dragging yourself back to work and school next week.
Although we only recommend picks we really love, we may earn a commission on purchases made through links from our site.
MORE: Best Things to See in Houston on Your Family Vacation
Must-See Spots in Minneapolis With Kids
Things to Do in St. Louis With Family
This article was originally published on