Netflix's 'Love Is Blind' Finale Is Full Of Drama, Suspense, And Spilled Tea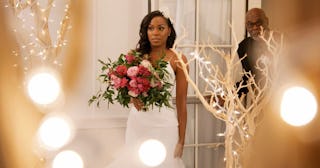 Netflix
All the tea, drama, and suspenseful moments from the much-anticipated Love is Blind finale
The reality dating show that has swept the world, Love is Blind, is officially over (sorry, Bachelor franchise fans, this show is it). But the finale tea is still piping hot, because there is just so much to cover. Who got married? Who got cold feet? Who walked down the aisle with zero enthusiasm and no bouquet? Keep reading if you want to know.
The three-week "event" has finally come to a conclusion for the five couples who met, dated, and became engaged sight unseen, and then continued to court one another for two-ish weeks before agreeing to walk down the aisle. In just 38 days, these couples moved faster than many do in five years.
Of course there was drama — wedding day or not, shit got real.
First, the cliffhanger between Giannina and Damian was resolved. He bailed at "I don't." Giannina, fiery and tempestuous as she is, ran away, slipped, fell, ran some more, cried, came back and gave Damian a look that can only be described as "attempted murder," then peaced out of the venue altogether.
Do these two belong together? Absolutely not. Are they fun to watch? Yes.
Next up: Amber and Barnett. Right off the bat, you've got to feel bad for Amber. It does not bode well that her fiancé is sending her straight to voicemail when she tries to call him. ON THE DAY OF THEIR WEDDING. He admits he's getting cold feet, she pretends it's all going to be fine. These two keep us sweating right up until the last minute, where they both agree to spend the rest of their lives together.
These two kind of belong together? That's the nicest thing I can come up with for them. Here's hoping the flames of their mutual horniness never wan.
The third wedding of the day belongs to Kelly and Kenny. For nine episodes, these two were cute enough to watch even if, compared to the rest of the gang at least, they were supremely boring. Right up until the penultimate episode where Kelly admits she's not attracted to Kenny, the man she agreed to marry, these two were mostly a snooze-fest. Even though her own family members are like, "Kelly, this guy is perfect, you've only dated fuckboi assholes and this man is stable, handsome, kind, and loving" Kelly decides Kenny is not the man for her in the end.
Kenny, for his part, is a complete class act about it. The biggest hint that these two weren't going to work out? The fact that they didn't have sex. Imagine not test-driving your potential spouse! In this economy!
And now, it's time for the nuptials of Jessica and Mark. This entire relationship shouldn't have progressed past the pods, let's be honest. She's spent the better part of their 38 days together intoxicated (Can we get a welfare check on that poor dog of hers? I don't think retrievers are supposed to slug wine?), hung up on Barnett, so put-off by her fiancé that the only way she's comfortable with him is if he's in a separate room, and, according to a damning GQ interview with Mark, was the only contestant who didn't live in the condos provided.
Even her jarring "sexy baby" voice couldn't save these two.
She rolled down the aisle with no flowers, no family, and no enthusiasm. You almost felt bad for her, to be fair, because even though poor Mark tried so hard the entire time, she seemed…forced to do this? Her family not being there was a big ol' red flag that this was not a serious wedding. Here's hoping Mama Cuevas dried all her son's tears and everyone involved in this doomed romance is doing much better these days.
And now it's time for the moment everyone has been waiting for: the beautiful, eternal union between Cameron Hamilton and Lauren Speed. The two angels of the show, fans everywhere have been shipping them since the first time they both shed tears in their respective factory pods. She is a literal goddess and he clearly worships everything about her. They're both kind, respectful, happy, emotionally stable, successful in their own right, and have wonderfully supportive and loving families.
https://www.instagram.com/p/B9BQD6Cn5k6/
YOU LOVE TO SEE IT!
A reunion show has been filmed and is set to air March 5. Hopefully all of our burning questions will be answered, though if you're good at internet sleuthing at all it's pretty clear who remains together, who tried to give it another go, and who stayed the hell away from each other after filming. (Check out LoveIsBlindTea on IG for more.)
Though all of the couples went through quite a journey in just five weeks, the true MVPs here are Nick and Vanessa Lachey. They probably made bank for performing about six collective minutes of labor — respect.