Netflix's 'Love Is Blind' Is The Bingeable Dating Show With Something For Everyone
by Christina Marfice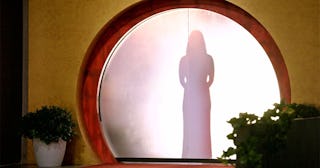 Netflix
Love Is Blind is about to be your new dating show obsession
Reality dating shows are definitely not for everyone. The forced storylines and the drama turn plenty of people off, and then there are those who just can't suspend their disbelief enough to be sold on relationships forming and solidifying in a matter of days or weeks. But for everyone who loves to binge a great show, regardless of how they feel about dating shows in general, there is Netflix's new hit, Love Is Blind.
The three-week event has been dropping batches of episodes every Thursday since Feb. 13, and the finale is now set to hit Netflix this Thursday. But while we're eagerly awaiting the final episode and finding out which (if any) couples actually say "I do" to each other, we can't ignore the fact the Love Is Blind has become a total hit, and people are absolutely obsessed with it, even though it's objectively kind of terrible.
The great thing about Love Is Blind is that it really has something for everyone.
Take the single seemingly functional couple on the show, for example. However you feel about the super-rushed timelines that come with reality TV dating, Lauren and Cameron are actual couple goals and viewers are absolutely willing to die for this perfect human pairing.
Then there are the viewers who are enthralled by Mark and Jessica (or should we say Messica) and their constant drama, weird love triangle with Barnett, and alcohol-fueled antics.
Some viewers come for the complete absurdity of people saying "I love you" and getting engaged after knowing each other for four whole days.
And, for those of us who are Bachelor Nation stans and have been sorely disappointed by the lack of entertaining drama this season, Love Is Blind delivers in straight chaos. Delicious, absurd, binge-watchable chaos. Everyone watching this show and its perfect cast of insane people is here for this reason.
Is it a terrible show? Absolutely. Can any of us stop watching it? Absolutely not.
If you haven't started binge watching Love Is Blind, I would personally recommend waiting to do so until your schedule is clear. There are nine episodes currently available, and you're going to want to watch them all in straight succession, which means you need nine straight hours to commit to this thing. And the final episode, where presumably some of these people will actually marry each other, drops Thursday, so you might want to try to watch before then. Godspeed.