Our House Is Teeny Tiny, But We're Perfectly Content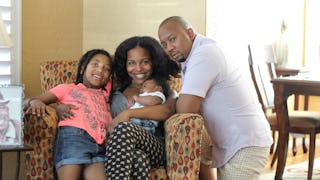 photo credit: Brandi Riley
As a single mom, I brought my newborn daughter home to a four room apartment. Not four bedroom, four rooms. Period. And that included the bathroom and kitchen. I set her bassinet and changing table up in the corner of my bedroom. I had no choice but to do the best that I could with the space that I had. Trying to contain all of the accessories that come with a baby was a challenge, but I made it work. The entire time we lived in that tiny apartment, though, my goal was saving up to move to a bigger home. And I did.
A couple of years later, my daughter and I moved into a two-story 3-bedroom home with a basement and a backyard. It was more space than we knew what to do with, but I appreciated being able to spread out. She had her own bedroom. I had space to entertain, and I thought that homes in the future would only go up from there.
Then I met my husband and moved to California.
We live just a few minutes away from San Francisco. Our area is consistently ranked as one of the most expensive places to live in the country. My husband is a director at a non-profit, and I'm a writer. We're fortunate (and I might even say lucky) to have found a home that we love. Even though it's too small for our family by most people's standards, we're perfectly content.
When we first walked into our home, with its awkward layout and tiny kitchen, I didn't see the vision. Sure, it was the open layout I'd hoped for, but the square footage wasn't even close to what I had my heart set on. There's no dining room and no place to put a table for our family to eat. Besides one comfy sectional couch, there isn't room for any other seating. At the time we were a 4-person family moving from a two-bedroom apartment and my husband was determined to move. He said it would work, and I trusted him. I'm really glad that I did.
What our home lacks in space, it makes up for in character. Our high balcony gives us a view of the city that is unmatched, including two bridges and the bay. On New Year's Eve and other holidays, we can sit outside and watch fireworks from at least six different cities. My children ooh and ahh when my husband lights logs in the fireplace I felt was on the wrong side of the room. We've watched many family movies, the four of us snuggled up on our single couch, with the light of the fire flickering in the background. Not one person has complained about having to hold their plate or eat in the living room when I've invited friends over for dinner.
We've had to get rid of things that weren't useful to us anymore because we just don't have space to store them. I'm teaching my family not to bring home junk that will clutter up our tight space. A few weeks ago, I talked to my daughter about how our home is our sanctuary. We have plenty of room to do everything we want in it as long as we're careful about what we allow inside to take up space. After our talk, she brought me a couple of dresses that were too small and a bag full of stuffed animals that she felt ready to let go of.
My husband recently held a staff retreat in our home. He borrowed a card table from my in-laws to put out coffee, donuts, and snacks. He lined our little living room with folding chairs and moved our living room table/ottoman so that people could sit on it and the cozy rug if they wanted. We straightened up the baby's nursery because he wanted to have a few breakout sessions and we needed the space. Some people had small group sessions on the balcony. It was a success, and almost magical to see our sweet home expand to fit all of his colleagues.
Living in a small home works for our family. We watch television together and all eat in the same room at the same time. We are forced to clean as we go, because if we didn't we wouldn't be able to navigate around each other in the space.
I still have thoughts of a dream home, but right now, I feel at peace with where we are. After all, we're living in comfortable, warm quarters practically on top of the people I love the most on the planet. Kinda sounds like a dream home to me.