Grieving Father Launches LOVE>hate Project To Fight Violence Against Women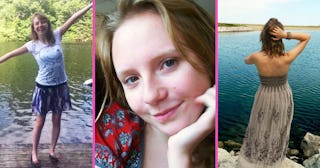 Courtesy of The LOVE>hate Project
Trigger warning: child loss/rape/domestic violence
Wisconsin father Dr. Buck Blodgett tragically lost his 19-year-old daughter, Jessie, to rape and murder at the hands of one of her longtime childhood friends. And as much as they sting, these types of headlines are becoming increasingly common.
Those of us who understand what it's like to lose a child, as well as those who do not, feel our heart strings tugged fiercely by these harrowing tales. Oftentimes, they leave us with a sense of outrage on behalf of these bereaved parents… how can we help prevent such brutal violence? What can we do to lighten the load of a grieving parent who is traveling a road no other parent wants to travel?
Dr. Blodgett's hope is to provide some hope and positive change by sharing Jessie's story. Determined to honor his daughter's memory and to turn something done with such hate into something loving, Blodgett co-founded The LOVE>hate Project. The movement hopes to put an end to violence against women and to encourage others to choose love over hate.
Blodgett, who was at his office when he received his wife's call telling him that their daughter had been attacked, says he learned just how fragile life truly is from that one horrific phone call. "I've had broken bones, broken relationships, broken dreams, a broken heart, like all of us have. But this pain was one hundred times the intensity of any other," he tells Scary Mommy.
A talented young musician with a huge heart, Jessie was passionate about seeking equality for all. "She was fierce and brave about injustice and mistreatment of people and animals," Blodgett says. "She had an eye for who needed a friend." He recalls that even as a little girl, she would hug the great oak trees and "listen" to what they had to say.
"Finding purpose in tragedy can make the world a better place," Blodgett said in a press release. "As a loving parent, I had to speak for Jessie and make her life matter. I had to forward her legacy project and turn this unthinkable tragedy into something good."
With a heart that appears to meet the size of his late-daughter's, Dr. Blodgett has been driven to spread the message of the LOVE>hate Project by sharing Jessie's story, urging others to get involved, preparing communities with steps they can take to prevent violence against women, and helping bereaved parents see the light in the darkest of times.
At Jessie's old school, Hartford Union High School, Jessie's legacy lives on to protect and empower female students with a safe space to report mistreatment from others. And in 2016, The LOVE>hate Project raised awareness on the magnitude of violence against women with the cooperation of 52 city officials in and around Washington County, Wisconsin. From this, 14 community project model ideas were brought forth in 2017 to better equip Washington County with the resources needed to end violence against women.
The LOVE>hate Project's goal is to obtain a "proven efficient model" by 2020 that drastically reduces violence against women in Washington County and surrounding areas, as the project's seed has been and continues to be planted in other cities and states.
"Grieving parents are sometimes the best-positioned people to create awareness and change by taking action," Blodgett says. Their loss and the emptiness brought forth from their loss has the ability to make a great difference. Finding something of beauty to contribute to the ugliness in this world gives a bereaved parent passion, and Dr. Blodgett urges fellow bereaved parents to find their purpose post-child loss too.
"Find your calling. Find something important to give yourself to, something you believe in, something worthy, something that's not about you but about others," Blodgett says. "Maybe it's your other kids. Maybe it's a cause you support. What it is doesn't matter; what matters is that you have something you care deeply about, something that needs you, a place to make a meaningful contribution."
Blodgett is a first-hand witness to how misunderstood parents of murdered children really are, and he hopes that by sharing his pain, the world can see those with lives similar to his a bit clearer, and there would be a change to male on female violence.
"It's as if part of you is forever gone, a core part, like a leg, except far more valuable and fundamental to who you are than just losing a physical piece of your body," he says. "And [bereaved parents] wish others saw the bravery it takes to move forward."
Though Jessie's death isn't a life event that any parent would ever be able to fully recover from, the Blodgett family feels that a continual state of pity for themselves is not an option. In fact, Blodgett suggests that feeling this way is a "bottomless pit that gets harder to escape the longer you spend there."
Advocating for change, being that change, and seeking a difference is where Dr. Blodgett has found his footing. And he urges other bereaved parents to choose joy again.
Fight for the injustice in this world, rise up and stand against the mistreatment in this world, and live life fully, just like Jessie did.
And above all, always believe that LOVE>hate.
For child loss resources, financial assistance, or to connect with other bereaved parents who just "get it," visit our Scary Mommy Child Loss Resource Page.
This article was originally published on