Celebrities And Fans Are Paying Tribute To Luke Perry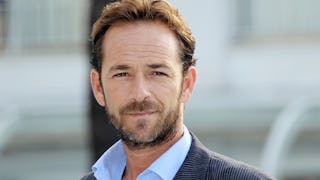 Image via VALERY HACHE/AFP/Getty Images
As the news of his untimely death spreads, friends and fans are sharing their feelings and memories of Luke Perry
Less than a week after suffering a massive stroke at his home in California, long-time television star and teen heartthrob Luke Perry has died at the age of 52. As everyone processes this sad news, from his former co-stars, to his friends and fans, people are sharing their love, their condolences, and their memories.
Since his stroke, we've heard from his co-stars on his breakout show, Beverly Hills 90210, where he played the off-the-charts cool Dylan McKay.
Co-star Shannen Doherty, who played Brenda Walsh, shared this heartbreaking photo shortly after his stroke.
Doherty also opened up in an interview with Entertainment Television about being in contact with Perry after his stroke, but before his death.
"I can't talk about it here because I will literally start crying but I love him and he knows I love him," said Doherty. "It's Luke, and he's my Dylan."
Another 90210 co-star, Ian Ziering (Steve Sanders), posted just hours after Perry's death.
"Dearest Luke," he wrote. "I will forever bask in the loving memories we've shared over the last thirty years. May your journey forward be enriched by the magnificent souls who have passed before you, just like you have done here for those you leave behind. God please give him a seat close to to you, he deserves it."
Riverdale creator Roberto Aguirre-Sacasa wrote, "So heartbroken about Luke. He was a father, brother, friend, and mentor. Each night before he had to shoot a scene, he'd call me and we'd talk about…everything. I will miss those calls. And my heart goes out to all his family and friends."
Riverdale co-star and fellow teen idol Molly Ringwald also posted after hearing the news: "My heart is broken. I will miss you so much Luke Perry. Sending all my love to your family."
Other friends and famous fans from around Hollywood began posting their remembrances on Monday morning, whether they new the star personally or whether they had just grown up watching Perry on shows and movies like 90210, Oz, John From Cincinnati, or Buffy the Vampire Slayer.
Many specifically remembered moments where Dylan ruled the screen on 90210.
Fans also remembered Perry, simply for the impact he had on their lives.
Writers' rooms, publications, networks, and other media outlets also shared the loss.
This sad news comes just days after a six-episode 90210 reboot was announced by Fox. Because of his commitment to filming Riverdale, it wasn't clear if Perry could be involved in the revival, though guest appearances or cameos were possibilities.
This article was originally published on