LuLaRoe Found Their New Unicorn — Disney Prints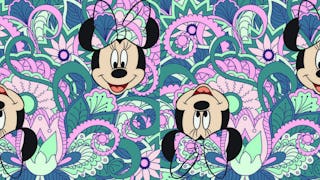 Image via LuLaRoe
LuLaRoe is collaborating with Disney on their latest patterns
There's big news from direct sales giant LuLaRoe today, and people are freaking out. The company announced a collaboration with Disney, which means fans of both their "butter-soft" leggings and Mickey Mouse are positively losing it.
In the wee hours of the morning, LuLaRoe dropped a video on their Facebook page that answered the long-awaited question of what surprise they'd been hyping in recent weeks. It's Disney time, LuLa ladies.
The video gives many hints at the patterns LuLa fans can expect their consultants to carry, and there's a lot going on here including kid's clothing.
But first, the most exciting part for most LuLa devotees — the women's legging patterns.
The comments section of the video was quick to note that Mickey and Minnie dominate the offerings with many wondering about patterns with other characters. Maybe if this set does well we will see Ariel and Jasmine prints soon enough — only time will tell.
The options for kids are totally adorable and feature leggings, shirts and dresses.
Looks like there will be coordinating sets for moms and kids as well, a popular feature the company calls "Mommy and Me" patterns.
LuLaRoe posted again this morning with a preview of more women's Mickey-themed patterns and a message about their new partnership with Disney.
"We are SO excited to finally announce the LuLaRoe Collection for Disney. This collection will see a steady rollout of specially-designed clothing available through the Independent Fashion Retailers. This enchanting collection embodies the essence of Disney through apparel. Enjoy prints that inspire imagination, possibilities, and the Disney fantasy we all love."
"Steady rollout" is LuLa code for, "get ready to bombard your consultants because this stuff is coming out little by little and will be snapped up fast."
The comments on the video and this morning's photo are already full of fans speculating about how difficult the new line will be to come by, some even expressing concern that the patterns will be "flipped" on eBay for many times their retail value. There are also loads of predictions about the Disney patterns becoming instant "unicorns," that is, patterns so desired and rare it could take months of searching and networking with several consultants before finally finding them. If LuLa/Disney addicts are already panicking, you know it's going to be a frenzy once the clothing is available for sale.
There's no date for the release of the new patterns, so stalk your favorite consultants' Facebook pages accordingly, and good luck!
This article was originally published on