Ep. 5: Lullaby League Moves Closer to the Championship Round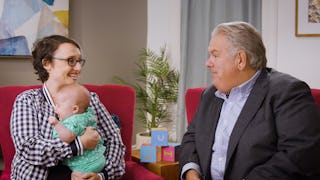 In this episode of Lullaby League, we learn which groups will advance to the final round! Will the NY Belles move into the Top 2? Or will the Belles be beaten by the buzzer? It's all up to baby Robin, a 2-month-old whose sleep routine involves loud marching bands. "Sometimes it takes hours of that," says her mom, Halley. "The neighbors hate us." Hopefully some soothing lullabies will speed up the process.
Lullaby League is the ultimate bedtime battle, where a cappella groups compete to sing a baby to sleep. The group with the fastest time advances to the next round, and the winning group receives a professional recording session. Hosted by the hilarious Jim O'Heir of Parks and Recreation, Lullaby League airs Wednesdays on Scary Mommy's YouTube channel and Facebook Watch.
[ss_featured_video]
This article was originally published on