Parents Warned Their Kids Could Be Put In Foster Care Over Lunch Debt
by Julie Scagell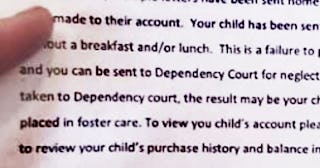 WBRE
The letter was sent by the school district to all parents with lunch debt
A Pennsylvania school district is making headlines after threatening parents with foster care if they don't pay their children's school lunch debt.
Luzerne County school district sent a letter to parents who were delinquent on their lunch bills (around 1,000 students), warning if they don't pay immediately, the school will be reporting them to dependency court which could result in their kids being removed from their homes.
"Your child has been sent to school every day without money and without breakfast and/or lunch. This is a failure to provide your child with proper nutrition and you can be sent to Dependency Court for neglecting your child's right to food," the July 9 letter read in part. "Please remit payment as soon as possible to avoid being reported to the proper authorities."
The letter continues: "The result may be your child being taken from your home and placed in foster care." The person who wrote the letter, director of federal programs Joseph Muth, says Wyoming Valley West is owed more than $22,000 from parents, WNEP reported.
"Foster care is to be utilized only when absolutely needed — when a child has been abused, is in need or has suffered a tragedy," Luzerne County Manager David Pedri said in a statement. "Our foster care system is NOT to be utilized to scare parents into paying school lunch bills."
"I found it very disturbing. Upsetting. It's a total misrepresentation, a gross misrepresentation of what our agency does," Luzerne County Children and Youth Services executive director Joanne Van Saun said. "It's just not true. We do not remove children from families for unpaid bills." Luzerne County Children and Youth Services is part of all foster care placements that would take place in the county.
"I have been employed for Luzerne County Children and Youth Services for 33 years. Never has this county removed a child from a home for unpaid bills and never will we," Van Saun said.
District Solicitor Charles Coslett defended the letter with the foster-care warning and stated that he was prepared to take legal action against parents and would look into whether they spent money on "unnecessary items" like lottery tickets or alcoholic beverages.
Once word of the letters surfaced, upset parents began contacting the district's school board for answers. School board Vice President David Usavage then intervened, telling the Citizen's Voice that future collection letters will not mention anything about foster care. The district says they will also send letters apologizing to parents for the threat of foster care in their original letter. Muth admitted he "made a mistake" by not having the school board review the letter prior to it being sent.
This article was originally published on