Lyft Is Offering Free And Discounted Rides To Polls On Election Day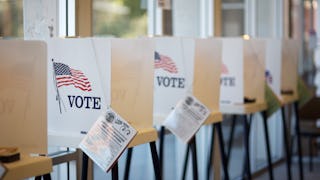 Image via Istock/Getty Images
Thanks to Lyft, you have no excuse not to vote this November
For anyone who struggles to vote because of a lack of transportation, Lyft is doing its part to provide a solution. For the upcoming Nov. 6 election day, the ride-sharing app is partnering with a number of voter turnout organizations to offer discounted or even free rides to the polls.
Here's how it works: Everyone who uses Lyft to get to their polling place on Nov. 6 will receive 50 percent off their ride. And "underserved communities that face significant obstacles to transportation" will be eligible for completely free rides, according to a statement from the company.
Funding and promotion will come in part from Vote.org, TurboVote, Nonprofit Vote and When We All Vote, a voter registration organization endorsed by First Lady Michelle Obama herself. Free rides in underserved areas are happening due to partnerships with Voto Latino, local Urban League affiliates, and the National Federation of the Blind.
This is huge, because transportation really is a barrier to voting for many people. Demographics that are least likely to turn out on Election Day are overwhelmingly the poorest of Americans — a CNN investigation found 2012 turnout was under 50 percent for families who made less than $20,000, compared to 78 percent for families who made nearly half a million. There are a lot of factors that influence those numbers — the cost of obtaining a photo ID or a lack of affordable childcare, for example — but transportation definitely plays a part. A person who doesn't own a car or who struggles to pay for gas or public transportation is less likely to go to the polls.
Lyft's solution isn't perfect. The discounts only apply to fares heading to polling places, and there's no discount for the return trip. But if this initiative gets even a small number of people to vote who otherwise wouldn't have, it will be a success.
If you want to build on what Lyft is doing and help get more underserved and underprivileged voters to the polls? A tax-deductible donation to an organization like VoteRiders or Spread The Vote will go toward removing socioeconomic barriers to democracy. Or you can look for volunteer opportunities at your local elections. Anything to make sure every American voice is heard, and we end up with a government that actually represents the people.