Macaulay Culkin's 'Home Alone' Face Mask Is The Content We Need Right Now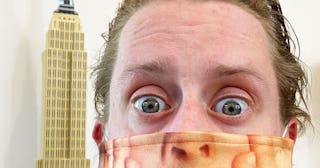 Macaulay Culkin/Twitter
In a new social media PSA, Macaulay Culkin wears a face mask covered with his iconic 'Home Alone' face
Macaulay Culkin soared to fame as a child star in the 1990 film Home Alone, one of the most beloved holiday movies of all time. After a hiatus from Hollywood, Culkin, now 40 (RIP, childhood) has been reestablishing himself as an icon once again, not only IRL but also on social media. There is something about his snark, sarcasm, and ability to make fun of himself and us simultaneously that has made 90s kids fall in love with him all over again. This can be demonstrated by his latest offering on his socials, which simply involves him masking up in his trademark facial expression that was plastered across billboards around the world 30 years ago.
The actor shared a photo of his 40-year-old self wearing a facial covering imprinted with his 10-year-old self, and issued an important PSA to fans.
"Just staying Covid-safe by wearing the flayed skin of my younger self," he wrote. "Don't forget to wear your masks, kids." (You can buy a similar one here.)
In case you missed the added genius, in the background of the photo is the Empire State Building (built in LEGOs) which was apparently his girlfriend, Brenda Song's, idea, per her Instagram comment.
"Whoever thought to put the LEGO Empire State Building in the back is a genius! Lol. Hehehe," she wrote.
In August, Culkin nailed his Twitter comedic timing in honor of his landmark birthday by reminding the rest of us how old we are by sharing how old he is.
"Hey guys, wanna feel old?" he asked. "I'm 40. You're welcome."
"It's my gift to the world: I make people feel old," he added in an accompanying tweet. "I'm no longer a kid, that's my job."
In February of this year, Culkin was featured on the cover of Esquire magazine. In the featured article he discussed his childhood fame and how he managed to stay grounded despite it all, and transition into a relatively normal adulthood.
"I've got something to show for it, man," he said about his experiences, not all of them great. "I mean, look at me: I got money, I got fame, I got a beautiful girlfriend and a beautiful house and beautiful animals. It took me a long time to get to that place, and I had to have that conversation with myself and go, like, Honestly, Mack? It's not so bad. I want for nothing and need for even less. I'm good, man."
Soon after he revealed he would be joining the cast of American Horror Story season 10. Initially set to air this fall, due to COVID-19, the premiere has been postponed until 2021.
This article was originally published on