Macy's Thanksgiving Day Parade May Not Have Balloons This Year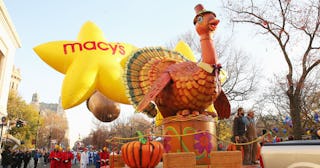 Mireya Acierto/FilmMagic/Getty
It'll be a game-time decision whether the Macy's parade will feature balloons this year
Macy's Thanksgiving Day Parade is iconic for so many reasons — the musical numbers, the Rockettes, Santa Claus,the floats, and, of course, the ginormous balloons. That may change this year, however, as predicted nasty weather may make it impossible for the balloons to fly safely along the parade route.
A forecast of high winds may ground the famous balloons on Thursday, which means no Snoopy, Charlie Brown, SpongeBob SquarePants, Pikachu, Olaf, Mickey Mouse, Spiderman and more.
Current parade regulations stipulate that balloons cannot be flown if sustained winds exceed 23 miles per hour and gusts exceed 34 miles per hour. The current forecast is predicting sustained winds of 23 miles per hour and gusts up to 38 miles per hour.
That sound you hear? It's parents everywhere collectively groaning in anticipation of their children potentially inquiring about the whereabouts of their favorite inflatable characters. Sure, all the other parade attractions are entertaining enough. The terrible lip-syncing, in particular, is a predictable delight to watch. And it's actually pretty awesome that the entire country gets to see popular, current Broadway musical numbers for free outside of The Tony Awards.
https://www.instagram.com/p/BqffNCvhDH7/
But it's the balloons that keep kids' interest year after year. Despite the dozens of other fun parts of the parade, there's not a marching band in existence that can compete with a monstrously-sized Grinch 0r Paw Patrol character floating down 5th Avenue in New York City. Sorry, I don't make the rules.
But you know who does? New York City officials. Why? Because back in 1998, a giant Cat in the Hat balloon injured four people when high winds caused it to knock over part of a streetlight on 72nd Street and Central Park West at the previous year's parade.
In fact, there have been a few balloon-related gaffes in the parade's history. Enjoy:
"It's going to be right on the edge there," TODAY's Al Roker said earlier this week. "Obviously, parade officials and city officials will make those decisions Thursday morning, but right now it's not looking so good."
The executive producer of the parade says that it will be a wait-and-see kind of thing as far as whether the balloons will be flown. "It's a little too early anyway, but we know it's going to be a great day regardless," executive producer Susan Tercero said. "We're going to have the parade no matter what. The show will go on, and we still have all of our mid-size balloons as well."
This article was originally published on